What Lindsay Lohan and Linda Lovelace Have in Common
5 Things Lindsay Lohan and Linda Lovelace Have in Common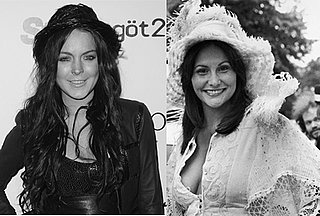 Yesterday Buzz told us Lindsay Lohan will play "deep throat" Linda Lovelace in Inferno, a period piece on the porn-chic era of the '70s. Famous for starring in Deep Throat, the highest grossing porn film ever, in 1972, Lovelace was best known until her 2002 death for the onscreen deep-throat fellatio she performed. Though she later denounced pornography, and became an antiporn activist, the '70s was a frolicking time for her and the porn scene.
While Lindsay's late-night romps seem like child's play compared to Linda's onscreen deeds, the scandalous reputations of both actresses beg for comparisons. So here are five things Lindsay Lohan and Linda Lovelace have in common.
LL and LiLo: Obvious and meaningless, but a fantastic coincidence nonetheless.
Religion: Both were raised Roman Catholic. Though Linda's upbringing was strict, Lindsay's was far more reformed and she has since left the Church. Lindsay does, however, come from stern Catholic stock. Her great-grandfather is rumored to have founded the pro-life party on Long Island.
Controlling men: While Linda's story is more tragic — coerced by pimps and abused by husbands — Lindsay has had her own controlling man to deal with. Dad Michael Lohan.
Read the rest below.
Love-hate relationship with public: With highly publicized struggles with drugs and could-not-care-less images, both have struggled with the public's hot-cold feelings. Inferno producer Wali Razaqi told People Lindsay can relate to Linda's ups and downs, and that's an asset. "One week she's the 'it' girl, and the next, she's the 'What are you doing?' girl."
The Sinatra connection: OK, Lindsay personally never had anything to do with Frank Sinatra, but this opens the door to a fun fact. In Lindsay's last dash with portraying iconic stars, she replicated well-known Sinatra mistress Marilyn Monroe's last photo shoot in New York magazine. Linda had her own rendezvous with old blue. The singer was so enamored with her that he and his wife had group sex with Linda and her husband.