What Is a Loving Cup?
What Is a Loving Cup? And Other Questions About Royal Wedding Memorabilia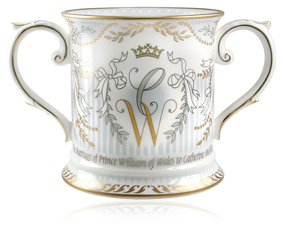 This just in from the Queen's Twitter. The first official Limited Edition Loving Cup has been produced to celebrate the royal wedding. I have so many questions! First, what's a loving cup? And next, will there be a second official Limited Edition Loving Cup?
As I did with confusing British royal titles, I decided to look up the exact definition of a loving cup, which sounds like some sort of nonhormonal birth control. Alas, its endorsement from the monarch should have given away the fact it's just an unfortunate name for something traditional. A loving cup is simply a large drinking vessel with two handles that people pass around at a marriage or banquet. You may also recognize it as the trophy awarded at golf or tennis events. If you are looking for a royal-wedding-inspired contraception, you can check out these unofficial "crown jewels" condoms.
Getting your hands on one of the 1,000 official loving cups, which bear "the couple's entwined initials in gold and silver surmounted by the coronet of Prince William and the wedding date," will cost you £125, or about 200 dollars. But the royals are also selling a Tankard — a cup that has one, not two handles — for only £35 ($55). Is that second handle really worth £90 ($150)?