What Michelle Obama Will Do After the White House
On the Trail With Michelle Obama: First Lady Talks Date Night and Second-Term Plans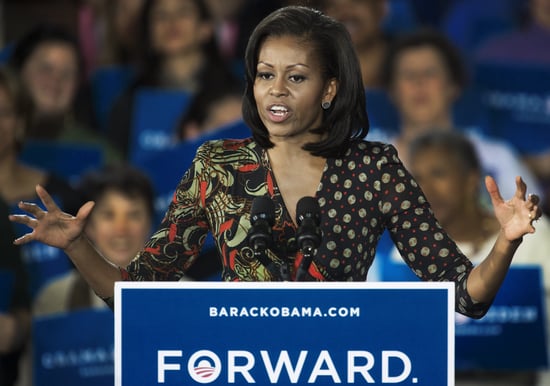 I followed Michelle Obama to Leesburg, VA, this week to watch the first lady in action at a grassroots rally, and to sit down with her and a few other female journalists for a conversation about life in the White House and what is at stake this election. Hundreds of supporters gathered at the Loudoun County Fairgrounds to hear the first lady stump for her husband. Secret Service members were in good spirits, cracking jokes, and campaign officials were happy the temperatures on the early-October day had dropped from those the week before, since the rally goers had a while to wait before the first lady's speech. They didn't seem to mind, breaking out in cheers of "Fired up! Ready to go!" and dancing along to a mix of country music, Stevie Wonder, and hits from the Dreamgirls soundtrack that played on the loudspeakers. Despite the crisp Fall weather, crisis wasn't completely averted. One person in the crowd fainted in the middle of Michelle's remarks. The first lady paused and called, "Help, help!" until the supporter was back up, and water was being passed through the crowd.
Before her speech, in a private room on the fairgrounds, the first lady spoke candidly with us women journalists. She arrived with a warm smile, and unsurprisingly Michelle doesn't lose her fashion sense on the campaign trail. She came to the stop dressed in a Fall-colored wrap dress, over-the-knee black suede boots, and gray nail polish. But she wasn't here to talk fashion. Instead, during our interview, the first lady dished on getting some private time with the president, her hopes for her daughters and all young American girls, and what she wants to tackle if her husband is reelected. Read on to find out what she said.
The Obamas Got Some Privacy on Their Anniversary
The first lady had to share her husband with the whole country on the night of their 20th wedding anniversary since it fell on the night of the first debate, but when they finally celebrated together at a restaurant, she got some much-needed alone time. "They gave us a private room. The only thing I asked for was good food and a little privacy. Because Barack, when we're out, he likes to be with people," she said, laughing. "And I'm like, 'For this one, can it just be you and me?'"
Childhood Obesity and Military Families Are Still Priorities
When I asked Michelle what she hoped to accomplish if her husband is reelected, she said she's committed to issues she already took on. "Ending childhood obesity is a generational goal," the first lady admitted. "Because we're talking about cultural shifts and how we eat, it's going to take some consistency." Whether in the White House or not, she explained, "I've taken on these issues because I really care about them. So at some level, I'm going to be invested to see it through to the extent that my involvement can keep issues going." She feels the same about her work with military families. "Transitioning into civilian life takes a country surrounding them. I want to keep that work up. I've become so attached to these families."
The first lady wants to provide more than superficial support: "If I say I'm going to do something, I really want to do it. Because I know that so many people get disappointed because big fancy people come in and they say, 'Well, we're going to do this and we're going to do that,' and it doesn't always pan out. I just don't want to be one more disappointment in somebody's life because you've raised the expectations. I want to follow through." Michelle does, however, want to stay open to new opportunities or needs. "I still think there's a lot more we could do internationally with women," she told us. "I think in a second term, for example, there are more ways we can tie in health and nutrition and many of the issues we're dealing with here in the United States with women and families in other countries. I'd love to explore that a little more."
She Won't Follow Hillary's Political Path
"I would never consider running for office and I never have," Michelle explained adamantly. "The process hasn't changed me. I know who I am. I know what I'm good at. I know what I'd enjoy." She might know what she's good at, but she can't quite remember her age, continuing: "At 48 — am I 48? I'm 48. I'll be 48? No, I'll be 49! I know what I want to do with my life. I don't know completely, but it's not politics. That's not my gift. That's not my calling."
She Wants All Girls to Have Choices
"The one thing I'm really an advocate for these days," Michelle said taking a serious tone, "is making sure that my girls and girls in general know that they have a broader definition of who they can be." If you want to get married and have kids, great, she said. If you don't, you shouldn't force it. "That's one of those liberating things for women. You got to embrace whoever you're going to be, and we're supporting you every step of the way." She went on with passion in her voice, "Maybe you'll never get married. Maybe you'll never have kids. And if that's who you want to be, you know I want my girls to feel that freedom. If we don't lock ourselves into this path, we can be fuller and happier people."
She Hopes Women Make Their Voices Heard
"It is the rare instance that we take a deep dive backwards. That the rights and freedoms are allowed to be taken away," the first lady pointed out. "I don't believe that women will not fight tooth and nail to make sure that we continue to progress. I'm not going to let it happen. Whether I'm here or not." But she also confessed it's easy to take things for granted and forget how hard our ancestors fought. Plus, there are modern challenges: "We're still dealing with equal pay. We're still underpaid individuals in this society. We're still discriminated against when it comes to health care." Michelle said it's important for our daughters and our granddaughters to understand we're still fighting. "You always have to vote," she argued. "It's not just about one election. It's not just about Barack Obama," the first lady insisted. "It's a forever battle. And voting is our most powerful nonviolent tool for change. And every now and then, we need that reminder that if we're not looking, somebody else with a different agenda may come in and completely disagree with everything that we take for granted."