What Is Poo~Pourri?
Poo~Pourri Promises to Save You Embarrassment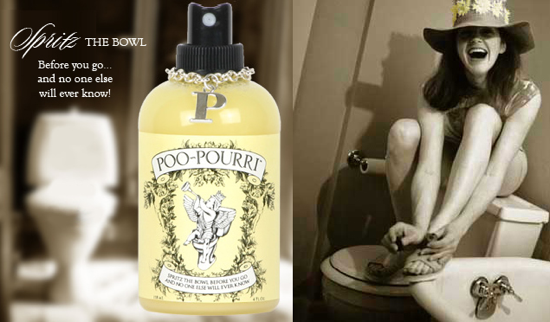 No, this is not a product from an SNL commercial skit. You can actually purchase Poo~Pourri, which promises to stop embarrassing bathroom odor. The eau de toilette's press release, which I received today in time for Valentine's Day, reads:

Whether you're having dinner out, or your man is pampering you with a home-cooked meal, nothing is worse then a romantic Valentine's Day dinner gone wrong when suddenly you feel the all-too-familiar rumbling in your stomach which can only mean one thing.
Although it's supposed to be used during a bathroom emergency, poo~pourri still requires a little prep, since you're supposed to spray the toilet bowel before you use it in order to trap the odor inside.
Just be careful with your purse. You wouldn't want the conspicuously labeled bottle to fall out!