What Is Rejection Therapy?
Rejection Therapy — Love It or Leave It?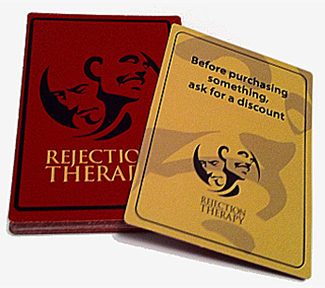 The art of losing may not be hard to master, but not even poetry can make rejection seem pleasant. Overcoming it, though, can help us get ahead in life because it requires bidding our comfort zones adieu.
The idea was developed by author Jason Comely, struggling to overcome his own social anxiety. He challenged himself to spend a year being rejected at least once a day. From smiling at strangers to asking women out, he learned rejection felt terrible but not as bad as missing out.
Now he's created Rejection Therapy cards, which challenge players to 30 days of rejection. There's one rule: you must be rejected once every day. If you put yourself out there and find success, then you need try again; try until you fail. I think I'd just rather go to regular therapy — what about you?