What The Runaways Did For Women
The Accidental Legacy of The Runaways: Sexed-Up Pop Stars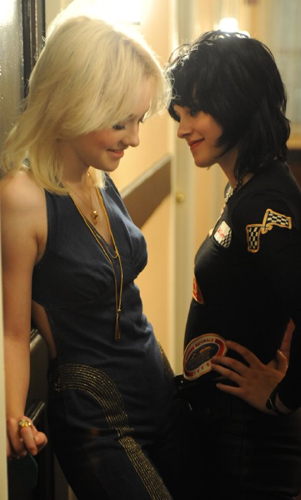 The Runaways may have opened the door for female rockers, but they also left it open for the hypersexualized female pop star. Now with The Runaways movie out today, it's the perfect time to look at the band's legacy.
The girls used their sexuality to garner attention, create a bad-ass image, and sell records. Yet there was no national outcry when teenagers Joan Jett and Cherie Currie went on stage dressed in lingerie. Maybe it's because it was the '70s or there was no Internet to complain to, but The Runaways' success was considered a positive thing for women. And rightly so.
Twelve years ago when Britney broke through, she was dressed in a seductive school uniform and looking straight into the camera like it was Justin Timberlake. When Miley Cyrus pole-danced at the Teen Choice Awards last year, it was not just on stage but on an ice-cream truck. Sure, The Runaways sexed up their act because they wanted to be liked, they wanted the crowd to go wild, and they wanted to be successful, but it was about empowerment, not capitalizing on the barely legal (or illegal) fantasies of men everywhere.