What Is SSIS at Brandeis
Was Your College Sex-Positive?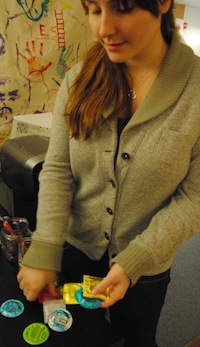 Most college students have an interest in sex, but each university takes its own approach to it. While Northwestern recently held a live sex demonstration for a human sexuality class, other schools forbid campus health centers from handing out birth control.
At Brandeis University, the robust Student Sexuality Information Service (SSIS) resource center runs a library of erotica and sexual health material, provides impressive counseling via text messages, and sells sex products, subsidized by the university, ranging from condoms to nipple nibblers and butt plugs. The first question on the FAQs, which lives on brandeis.edu, is: "Where is my clit and what can I do with it?"
Brandeis, which has been home to SSIS since 1973, is a far cry from BYU, which recently kicked a student off the basketball team for having sex with his girlfriend, and other schools with strict sex rules.
At the Sex::Tech conference in San Francisco, I asked peer counselor Ilana Silverstein, a senior a Brandeis, what kind of support or objection they get from the university and community. She explained that last year, 89 percent of students voted to include SSIS in the student constitution, guaranteeing it funding and insulating it from the administration's whims, even though it's also supportive. There is a large Orthodox Jewish community on campus, however, Ilana explained, that doesn't really know about the program. Or when they do, they're not always comfortable with it. In that case, SSIS tries to meet them where they're at, and last year they held a private session for people from that community.
But overall, the university and community see a value in the sex-positive on-campus service, and the students hope to bring the model to other schools one day. Does this remind you of your university?