What Show Was Sally Draper Watching When Caught Masturbating?
Mad Men: The Man Who Awakened Young Sally Draper
On last night's Mad Men, 10-year-old Sally's sleepover is declared over when she's caught playing with herself while watching TV. But what is she watching that's such an impetus?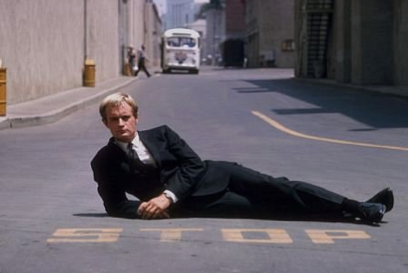 The Man From U.N.C.L.E (United Network Command for Law and Enforcement). It's a fictitious spy show starring the then 31-year-old David McCallum as a secret agent. If we've learned anything in 2010, it's that spies are hot, so can I blame my favorite Draper progeny? Nope, but Betty will.
Oddly, according to people on Twitter who have seen The Man, David McCallum is not the hotter of the show's two starring spies. That distinction goes to the James Bond-esque spy played by Robert Vaughn. Could this foreshadow Sally Draper's taste in men?
Whatever it is, Sally's sexuality is here whether Don, Betty, or Henry Francis like it or not. Here's hoping we get to sit in on her therapy sessions!