What Is Sleep Envy?
Sleep Envy Turning Women Into Tired Green-Eyed Monsters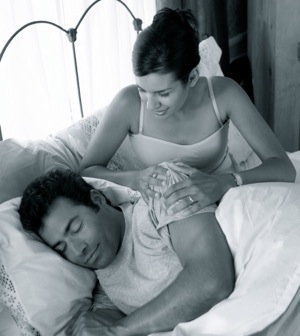 Do you ever lay in bed desperately trying to fall asleep while your partner rests peacefully? Well jealously resulting from this discrepancy can make you a "beastly bedfellow." "Sleep envy, as it is known, can turn a lady into a less than likeable partner," declares today's Daily Mail. But what if he's the one keeping you awake with snores and cuddles?
According to a poll featured in the paper, one in four women say they wake their partners up because they're jealous that they're sleeping. One in 10 admit to pinching! Fortunately for me, when I'm tired I can fall asleep anywhere, any time, so I don't have to sabotage anyone's precious sleep with "accidental" pokes. But apparently some women aren't as lucky. A quarter of the women polled said it takes them about an hour to fall asleep, while the men said they can doze off in under 10.
If sleep envy has turned you into a bedtime beast, you can always move on to the more modern solution: one couple, two beds.