What Are Stock-the-Bar Parties?
Why "Stock-the-Bar" Parties Are the Next Big Millennial Wedding Trend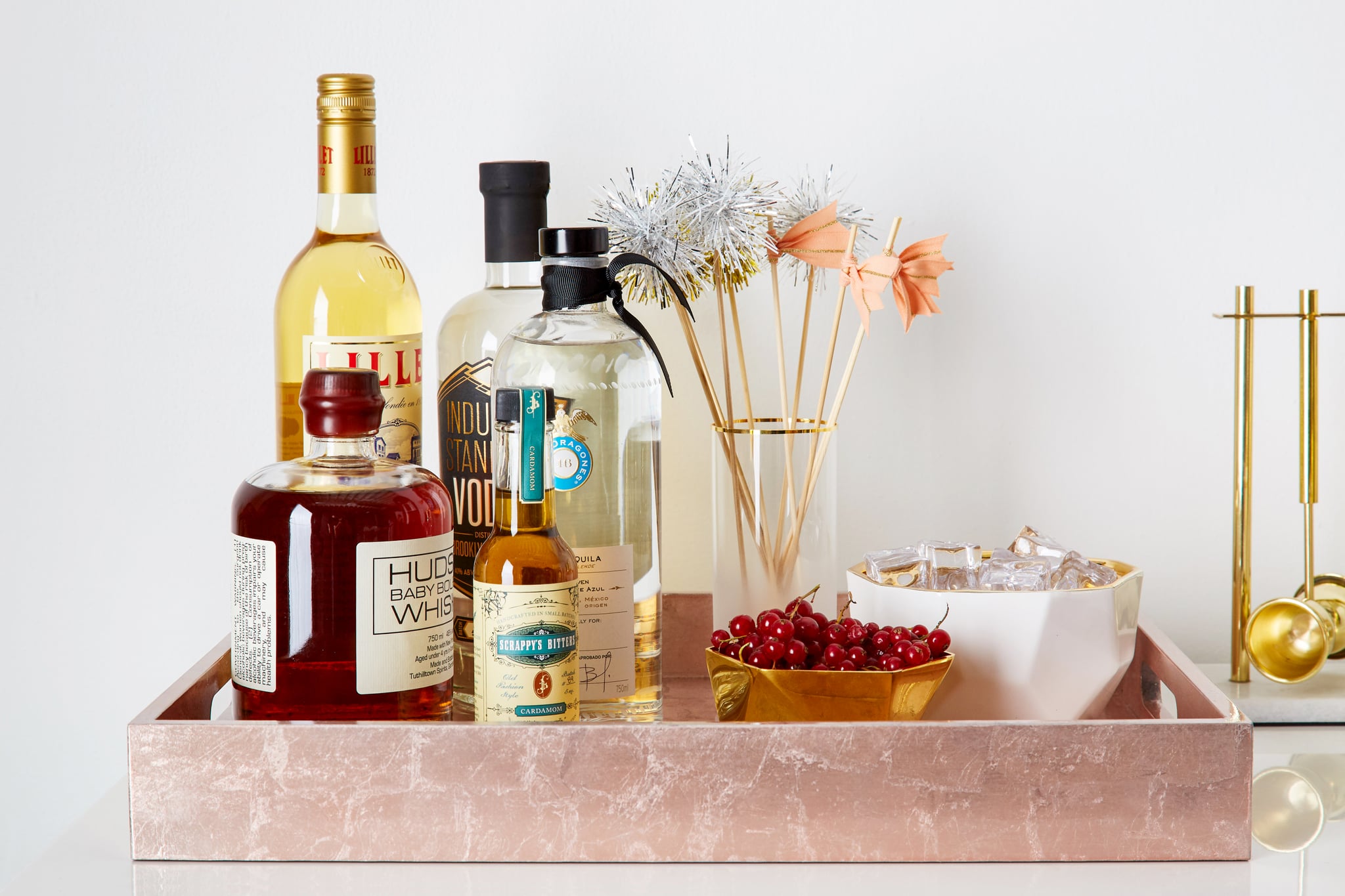 If you're engaged (or have friends who are), chances are you've started hearing a lot about "stock-the-bar" parties. What exactly is a stock-the-bar party, and how can you have one? We're here to help! This new trend has started emerging among millennials because as people get married later, they're needing less and less traditional registry gifts. After all, you probably already have a toaster and dish towels. Instead of asking for traditional gifts, we're seeing couples start using bridal showers and engagement parties as a chance to "stock-the-bar" with their favorite wine, spirits, and barware. It's a fun alternative if you've already created a home with your fiancé and need fewer household items, but more ways to entertain! Wouldn't you rather get a bottle of Champagne than a spatula at your engagement party? To host your own, simply register for the bar goods you want and invite your friends and family to celebrate with you.
If you're all in on the trend, it's time to start your dream bar wish list! For wine, select a mix of weeknight wines and special bottles you can save for milestone anniversaries and celebratory moments. For spirits, pick bottles based on the drinks you most commonly order, along with some essential mixers like vermouth and orange liqueur. Once you've stocked up on the drinks, think about tools, storage, and decor. Every good home bar has one fantastic wine opener, a decanter, and essential cocktail tools like a shaker, stirring spoon, and jigger. When it comes to storage, it's safest to go for more space than you think you need! I always suggest a 32-plus bottle wine fridge and a bar cart. This allows for space for all of your goodies, plus room to grow! Finally, don't forget decor! Round out your gift selections with some fun additions like beautiful coasters, cocktail books, and serving platters.
Your Stock-the-Bar Registry Essentials
When creating a stock-the-bar registry, you want to think about your full home bar experience. That means everything from wines and spirits to the tools you'll use to enjoy and serve them. And lastly, of course, where you'll keep it all. Don't worry: setting up the registry will be almost as fun as enjoying your gifts with these 15 essentials below.
Wine
I recommend a mix of both special age-worthy wines and everyday options. For the age-worthy wines, about a case worth (12 bottles) is the right amount. You'll only need a small to moderate wine fridge for safekeeping, and it's easy to move. There's something so special about saving bottles to open together for a special occasion. Some of my favorites would be a Perrier-Jouët 2007 Belle Epoque Brut for a one-year anniversary or Robert Mondavi 2013 Reserve Cabernet Sauvignon for a 10-year anniversary.
As for everyday wines, it's all about whatever the couple likes, which is what makes the registry such a great tool. They can make their selection really personal. I like to have my favorite workhorse wines around that pair with all different kinds of dishes and occasions. That includes dry rosé like Belle Glos 2016 Sonoma Pinot Noir Blanc — which is just as fitting for a trip to the beach as it is with a holiday meal. Lastly, some lovely Oregon Pinot Noir like this Elouan 2015, that can be enjoyed with lean meat dishes or even a hearty vegetarian meal like mushrooms and French lentils.
Spirits
On the spirits side, as with anything wedding related, it really depends on taste. My recommendation would be a good mix of cocktail essentials and some dram-worthy brown spirits. On the cocktail end — a great vodka, gin, whiskey, and tequila, along with your stirring mixers such as vermouth and Campari, are a good place to start to build your mixing bar. In the sipping neat section, I like to have one fantastic bourbon and one classic smoky Scotch.
Drinkware
As for the serving tools, the absolute must-haves would be a great set of wine glasses, a wine opener, and some cocktail tools. This 16-piece wine glass set ($220 for set of 16 glasses) is gorgeous and comes with a 10-year warranty in case you break a glass. That means you can feel comfortable using them on a weeknight or with company. I love a gorgeous personalized wine opener and decanter along with a good set of cocktail tools and glasses.
Storage
Lastly, a place to put all of those amazing gifts! For wine, there are a variety of wine fridges and racks available that range in size to fit a collection ranging from 12 to 200 bottles. A good place to start would be in the 32-bottle range so you can store your gifts with a little room to grow. For spirits and tools, bar carts are especially fabulous if you can find one that works for small-space living, too.
Jacki Strum is the founder of ThirstyNest, a wine and spirits wedding registry site for couples who'd rather stock their home bar than register for china.
Image Source: POPSUGAR Photography / Diggy Lloyd