WhatsYourPrice Online Dating Site Sells First Dates
New Online Dating Site Sells First Dates
A new dating site has hit the Internet, and despite its efforts to seem more Match.com than red-light district, it looks to me like a thinly veiled escort site. Founded by Brandon Wade SeekingArrangement.com, WhatsYourPrice.com calls itself "the eBay of online dating."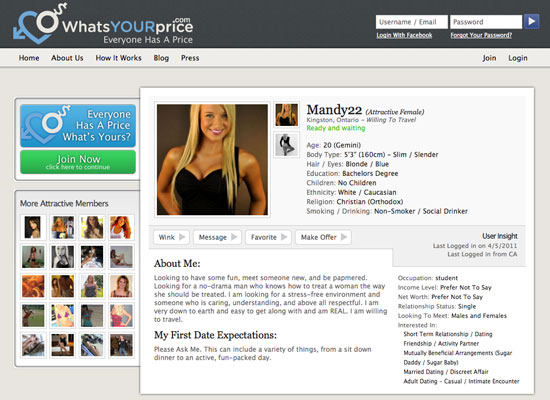 The site likens its buy-a-first-date concept to charity date bidding, addressing the "p" word in its PR kit by emphasizing, "There is absolutely no sex involved." The concept and the members, however, paint a different picture. The men, aka "the generous members," bid on dates with the women, "the attractive members," who have profiles similar to other online dating sites. And in case you were wondering, the site is "100% free for attractive singles" . . . so what happens if you're not attractive? Do you have to pay? And who decides which members are "attractive"? By perusing the "attractives" on the site, I'm guessing flat-chested, clothes-wearing females need not apply. And once you get past the cleavage, the "Interested In" sections, which include "Sugar Daddy/Sugar Baby," "Married Dating/Discreet Affair," and "Casual/Intimate Encounter" also insinuate there'll be more after a first-date dinner than dessert.
But what do you think? Is WhatsYourPrice just a smart, efficient way to meet people, or is it an escort service disguised as a dating site?