Where to Buy Discontinued O.B. Ultra Purple Tampons
Discontinued O.B. Ultra Tampons Hit the Black Market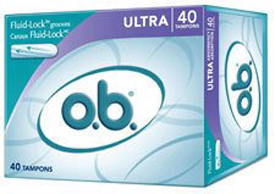 "Very rare!" "Unopened." "Brand new." These are words eBay sellers use to describe tampons for sale, but not just any tampons — the beloved O.B. Ultra (the purple box), which Johnson & Johnson discontinued late last year.
Soon all O.B. tampons were reported missing from store shelves, and though they've started to return, many women still can't find them. So, of course, enterprising eBay users are all over this opportunity. O.B. Ultra is going for $50 (seller also has a "cracked" box available for $45) while the same-size box (albeit nondiscontinued absorbencies) sells for under $6 on Soap.com.
The crazy thing is they're probably selling, otherwise so many people wouldn't be offering them. Once women do get their hands on the discontinued tampons they may have an Elaine from Seinfeld-like conundrum (are you sponge-worthy?) on their hands. Is today's flow ultra-worthy or just super?