Where Is Monica Lewinsky Now?
Why Can't the Public Treat Monica Lewinsky Like Bill Clinton?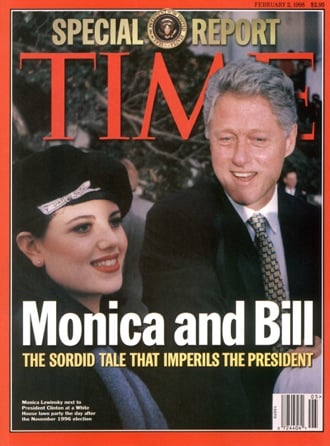 He was nearly 50. She was only 22. He was a powerful man who should have known better. She was just an intern. Yet, no one seems to remember Bill Clinton's indiscretions in the Oval Office while Monica Lewinsky's name is forever connected to the sex scandal.
Other women have overcome sex scandals to win the attention, if not complete admiration, of Americans. Kim Kardashian had a sex tape, but we've come to also associate her name with her TV shows, perfumes, and a fashion line. Monica, now 38, hasn't made the transition; although, she tried her hand at endorsing handbags and Jenny Craig. The spotlight was harsh to Monica, so perhaps she decided to avoid it after such public humiliation. But 13 years after the scandal broke — that's right, 13! — Monica is still not safe from tabloid takedowns, the latest one calling her a "social pariah" who can't get her projects off the ground or find a man. No mention of the fact that Monica lived in London for a while and got a masters in social psychology.
Meanwhile, the latest news on 65-year-old Bill Clinton centers around his newfound vegan lifestyle or charity work. As a former and successful president, Bill Clinton's legacy surely encompasses much more than the poor judgement he displayed with Monica, but it's striking how Bill's image has completely survived the scandal while Monica's has been completely dominated by it. Why do you think her public image seems so frozen in time?