Whitney Cummings Interview
Whitney Cummings on Costar Chris D'Elia and Her Love For TrèsSugar!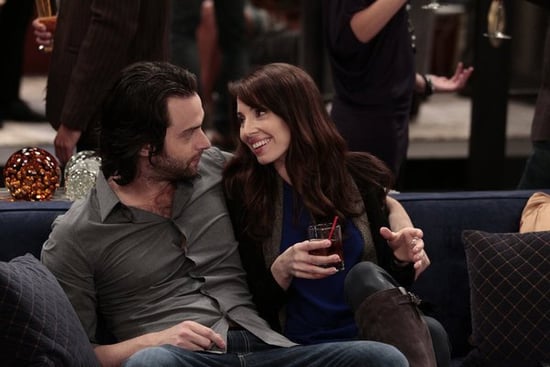 Back in February, we asked Chris D'Elia, the hot and hilarious boyfriend on NBC's Whitney, to answer your dating questions. Chris's answers were direct, helpful, and funny. "Don't wear flip flops." "If a guy's talking to you, he's interested." And skip the perfume on a first date because "a smell is a big thing. Pheromones. Don't cover that." Today, BuzzSugar chatted with Whitney Cummings, the show's creator and star and one of our favorite funny women out there. She revealed that while the show started with Chris and Whitney's characters as a happily unmarried modern couple, they might get engaged on the season finale. Apparently Alex, played by Chris, is going to propose.
Today Whitney also weighed in on her costar Chris's advice-giving abilities and her love for our site and all of our reader questions and advice. Here's what Whitney said:
Your costar Chris D'Elia took our readers' relationship questions, and his advice was so spot-on. So I have to know if he ever gives you dating advice?
Whitney Cummings: I think dating advice from Chris is the dumbest thing I've ever heard. He's such a moron. Why? No, no! And by the way, TrèsSugar is one of my favorite websites, I'm on it constantly. I'm like tweeting with them, I'm obsessed with that website. I'm not kidding, I go on that site a lot to think of ideas for the show because you guys have such great like, "how to know your relationship's crumbling" or whatever. I'm always on that site. I love it.
You should comment!
WC: It's like, on my home screen. It's on my, what's that bar, you know the bar, with all your sites? (A bookmark?) It's a bookmark! It's one of my home sites, on my slab or whatever.
But back to Chris. We loved his advice.
WC: [Chris] is an idiot but he is so smart and so lovely and so sensitive. But he's also a dude; that's why I was so attracted to him — I wrote the part for him, for him to be the boyfriend of the show. Because you don't see a lot of MEN on TV anymore. He's like, a real man, he's a dude. So much of what's great about him is when I'm running circles around him, and he's like, "OK." He just is like, a guy. His energy's so great.
For more from Whitney, check out Buzz's full interview.