Who Is Frank Ocean?
Meet Frank Ocean, R&B's Newly-Out Rising Star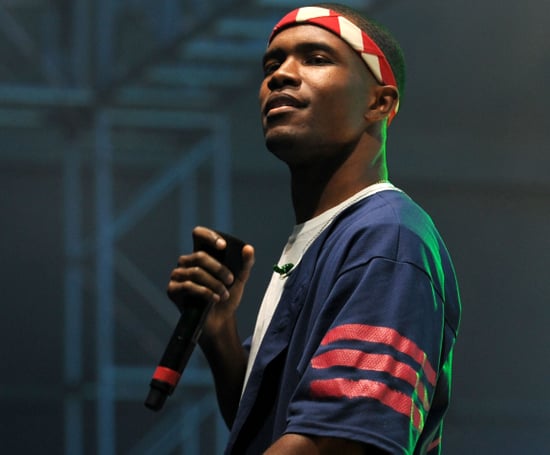 Following his revelation last week that his first love was a man, Frank Ocean is enjoying another coming out moment today. Ocean gave his first televised performance on Late Night With Jimmy Fallon last night, and his debut album, Channel Orange, was released digitally at 12:30 a.m., right at the show's start. The album includes "Bad Religion," the ballad Ocean sang on Fallon, and is already at No. 1 on iTunes. Watch his striking performance below.
If you've had Frank Ocean, 24, on your radar, then you know he recently opened up about his sexuality. Just last week, he revealed that his first true love was a man, and the song "Bad Religion" explicitly references a love between two men. Ocean sings, "I could never make him love me." Choosing that song for national TV shows that Ocean isn't trying to hide his sexuality. In the honest and beautiful Tumblr post about it last week, Frank Ocean reflected on his first love at the age of 19, who happened to be a man. He stopped short of using the words "gay" or "bisexual," but wrote:
4 summers ago, I met somebody. I was 19 years old. He was too. We spent that summer, and the summer after, together. Everyday almost. And on the days we were together, time would glide. Most of the day I'd see him, and his smile. I'd hear his conversation and his silence ... until it was time to sleep. Sleep I would often share with him. By the time I realized I was in love, it was malignant. It was hopeless...

I sat there and told my friend how I felt. I wept as the words left my mouth. I grieved for them, knowing I could never take them back for myself. He patted my back. He said kind things. He did his best, but he wouldn't admit the same. He had to go back inside soon. It was late and his girlfriend was waiting for him upstairs. He wouldn't tell me the truth about his feelings for me for another 3 years. I felt like I'd only imagined reciprocity for years. Now imagine being thrown from a cliff. No, I wasn't on a cliff, I was still in my car telling myself it was gonna be fine and to take deep breaths. I took the breaths and carried on. I kept up a peculiar friendship with him because I couldn't imagine keeping up my life without him. I struggled to master myself and my emotions. I wasn't always successful.
It was a risk for Ocean, who is also a part of the hip-hop collective Odd Future. Hip-hop isn't known for being especially gay-friendly, and even Odd Future has used gay slurs. Perhaps demonstrating how attitudes are changing in society as a whole, however, Frank Ocean's label and peers have expressed support. Keep reading to find out how.
Russell Simmons praised him for his "courage and honesty" and Beyoncé and Jay-Z both posted messages of support and gratitude online. Beyoncé specifically posted the photo below of him with a poem overlaid. By taking a risk to be himself, Frank Ocean does inspire, and lucky for music lovers, his emotional vulnerability also makes for moving music.