Who Is Susan Rice?
Get to Know Susan Rice, Hillary Clinton's Would-Be Replacement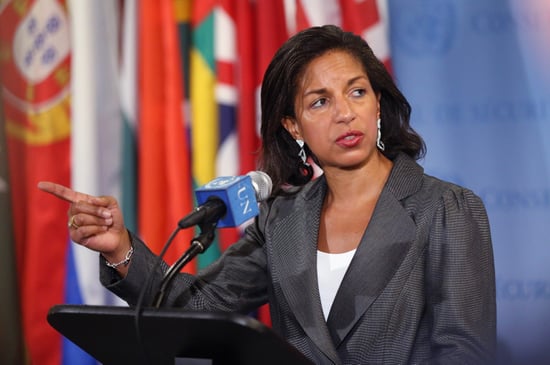 I pity the person who has to fill Hillary Clinton's shoes as secretary of state. The former first lady and senator is a high-profile and internationally respected representative of American interests abroad with sky-high approval ratings. But alas, Hillary says she doesn't want four more years on the job. Current UN Ambassador Susan Rice, 48, is at the top of the list for potential replacements, as is Senator John Kerry. But unlike Hillary Clinton, who was confirmed by unanimous consent by the US Senate, Ambassador Rice's potential appointment probably won't find total bipartisan support.
It all goes back to the October attack in Benghazi, Libya that killed Ambassador Chris Stephens and other Americans. Five days after the attacks, Ambassador Susan Rice went on Sunday talk shows saying it was not a preplanned attack, but rather a spontaneous demonstration. That has proven false, and Rice admitted her error and said she was working off CIA talking points on behalf of the Obama Administration. But Republican senators like John McCain, who met with Rice this week, are not convinced and oppose Rice's possible appointment as top diplomat. The controversy surrounding Rice's future and the buzz that she could replace Hillary Clinton aren't going away, so let's get to know her with these eight facts below.
Former secretary of state Madeleine Albright was her mentor. Rice's mother, who was a guest scholar at the Brookings Institute, served on a school board with Albright. Recently, Albright lent her strong support to Rice, saying, "I have known Susan Rice her entire life. There is nobody who knows more about these subjects. And I believe that she has represented us brilliantly at the United Nations."
She excelled in school. Rice went to Stanford, graduated Phi Beta Kappa, and was awarded a Rhodes Scholarship. She got her doctorate in international relations from Oxford. Not bad.
She's in an international relationship. Rice lived in Toronto with her Canadian husband, whom she met at Stanford, until 1993 when she moved back to the States to work on President Clinton's National Security Council.
In 1997, she became the assistant secretary of state for African affairs, under Madeleine Albright. Then in 2002, Rice became a senior fellow for the Brookings Institute. In 2008, she joined the Obama campaign as a foreign policy advisor. After Obama won, he appointed her UN Ambassador.
You can follow @AmbassadorRice on Twitter. Her stream is filled with tweets about tough topics like Syria, female genital mutilation (hashtag #FGM), and Iran.
John McCain says he will do everything in his power to make sure she is not the next secretary of state. Last night on The Daily Show Jon Stewart took up that pledge. Jon pointed out that while McCain is criticizing Ambassador Rice for passing wrong intelligence to the public, just a decade ago, McCain himself was telling America that Saddam Hussein was adding to his arsenal of weapons of mass destruction, which obviously proved to be false and had much greater consequences.
She was harsh on John McCain in 2008. During that presidential campaign, Rice characterized John McCain's trip to Iraq as "strolling around the market in a flak jacket."
Obama has her back. Earlier this month, the president addressed Rice's critics with strong words, saying, "If Senator McCain and Senator Graham and others want to go after somebody, they should go after me."
Below, watch Jon Stewart's hilarious yet informative take on the situation.