Why Did They Kill Off Matthew on Downton Abbey?
Downton Abbey Creator Says Tragic Finale Stays True to Matthew and Mary's Love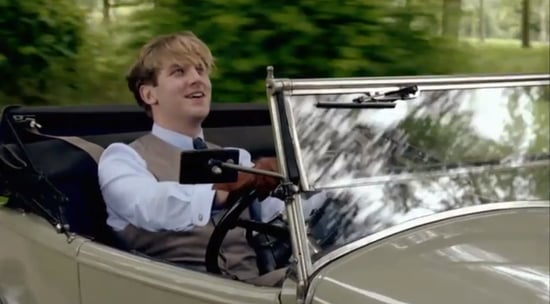 Downton Abbey's season three finale shocked fans of the period drama last night. The season starts on a happy note, with Lady Mary and Matthew Crawley finally getting married. By the finale, things are looking good for the Crawleys, who had already endured the death of the young and kind Lady Sybil: the estate is being modernized and secured for the future, the household staff is getting along, and Lady Mary gives birth to a son and heir.
The happiness, however, comes to a screeching halt when Matthew, high on the joy of meeting his newborn son, crashes his convertible into another car and dies. We'll have to wait until season four for the fallout, but Downton creator and writer Julian Fellowes explained why such a tragic end had to come to one of the show's main characters. Dan Stevens, who plays Matthew, did not want to renew his contract past the original three seasons, so Matthew's departure was inevitable. But sending him away from Downton alive and well wouldn't make sense for the story, according to Fellowes, who said: "By him dying, their love can remain intact."
If Stevens would have signed on for two or three episodes in a future season, Fellowes says, "we could have had a foreign posting or invented a career that would have made it possible for him to be away." But since he wouldn't, Fellowes explained that the only option was to kill Matthew, because otherwise, "we would have had to make this tremendously successful love affair between Mary and Matthew unhappy, which I didn't feel would be believable." So we have true love to blame. Weigh in below on what you made of Matthew's dramatic exit.