Why French Women Are Sexy
Attitude and Lingerie Are Why French Women Are so Sexy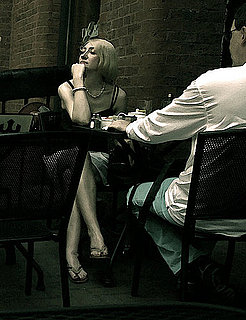 Books have been written about it — What French Women Know, Entre Nous: A Woman's Guide to Finding Her Inner French, and — but still that je ne sais quoi that makes French synonymous with sexy perplexes American women.
We're not alone though — the British are just as baffled. Yesterday Kate Carter asked this question in the Guardian, citing how "scruffy," "dowdy," and much like "rosbif" (roast beef) English women are. And while nobody does the collective down-on-yourself shtick better than the Brits, anyone could feel beefy compared to French women. From a fashion standpoint, Carter decides lingerie is the major distinction: French women spend 20 percent of their fashion budget on underwear. I have no idea what American and British women spend, but it probably has everything to do with how active our dating lives are.
So what's the real difference? Find out below.
It's attitude, and that's not entirely our fault. French women spend more money on lingerie because French women expect to get laid, regardless of age or relationship status. One-third of American women over 50 haven't had sex in the last year while only 15 percent of their French counterparts say the same. A 2006 study at Vanderbilt University concluded that middle-aged women who live alone have trouble seeing themselves — and others — as potential sex partners. And, having reported turning down more men than French women, are deemed more choosy.
It can, as usual, be traced to pop culture. While it becomes increasingly harder for English-speaking actresses over 40 (and even harder after 50) to get lead roles in Hollywood, French cinema continues to cast older actresses in romantic leads without nostalgia, cougar plots, or airbrushing.
If American women know one thing it's that looking to Hollywood for self-esteem is a dead end — not that it stops us. Maybe if popular thought changes, popular culture would follow. Or is that a fantasy?
Source: Flickr User Professor Bop