Why Teen Girls Post Pornographic Pictures on Facebook
What Teenage Girls Think of Sex and the Internet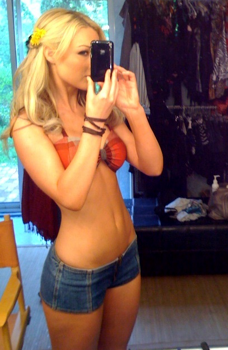 Kids are growing up too fast; 20-somethings aren't growing up fast enough. We'll never win, but there's no ignoring the Internet has added unprecedented access to information previous generations had to put much more effort into finding. But now teen girls aren't just accessing the content, they're creating it by posting sexualized photos of themselves online.
I'm not surprised that it's happening, but I am surprised by why, at least in some cases. Reporter Alex Morris of New York magazine talked to New York City teens for several months. He particularly looked into why girls post promiscuous photos of themselves, and the title of his article says it all: "They Know What Boys Want."
Yes, it's all for the boys, or the attention from boys. One girl did it just to provoke jealousy from her boyfriend. And though she wouldn't take it down for him, she loved that he cared enough to ask. Consistently, the girls Morris spoke to say the Internet affects what boys expect.
The average age of first exposure to Internet porn is 11 — one 13-year-old even said he's not as into it as he used to be — and the girls Morris spoke to seem wary of boys because of it. "Basically, with certain guys, they'll see something on the Internet and then they'll want their girlfriend to do it," said one. While another said, "It can make them perverts at a younger age."
It's reached the point where girls say this porn obsession is a "middle-school stage" that boys will outgrow by high school. While that sounds unlikely, there is some hope: almost every teen Morris spoke to recognizes they are the first generation to never know life without the Internet, and it's been a blessing and a curse. "I think kids kind of mature more because they have computers," says one girl. "Sometimes it can be a good thing, and sometimes it can be a bad thing."