Why Women Fake Orgasms
Why Do You Fake Orgasms?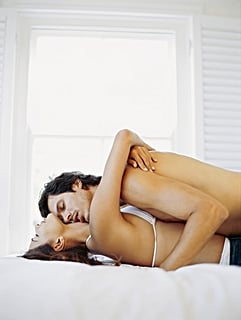 Eighty percent of women have faked an orgasm, according to a new study. While it only asked 71 women, the study made up in depth what it lacked in breadth.
Researchers broke down sex noises into categories, such as "silence," "moan/groan," "scream/shriek/squeal," "words" (such as "yes," "more," or a partner's name). They followed up by asking women why they made each noise, and it rarely had anything to do with orgasms. Most of the time women were faking sounds to influence or, in the study's words, "manipulate" partners, but not necessarily in a devious way. In short, they wanted to speed things up.
Gayle Brewer of the University of Central Lancashire in England said "boredom, fatigue, discomfort," and "time limitations" were all reasons women artificially enhance the moment. Sound about right to you? Remember, you can log out to comment anonymously if you want!