Why You Should Have an Engagement Party
5 Reasons to Have an Engagement Party (and 1 Reason Not To)
One minute you're basking in the excitement of your recent engagement, and the next thing you know, you and your betrothed are being feted at an engagement party, with your likenesses rendered in marzipan atop a cake.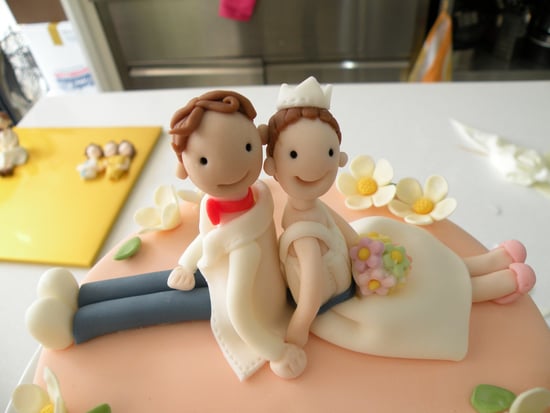 OK, so maybe that last part isn't true for everyone, but you may be surprised to find that when you get engaged, people want to throw you parties. Often, it's friends of your parents, who want to return some long-lost favor, or friends who love any excuse to celebrate. For five reasons why this tradition makes sense (and one reason it doesn't),
.
Someone offers to throw you one. Perhaps your aunt has five daughters, and you've attended every single one of their weddings. Or maybe your mom gave her best friend's daughter a fabulous wedding shower. These are the people who might want to host a party, so why not let them?
It's an excuse to eat and drink. I, for one, love any excuse to eat party food and drink free booze. Better yet, the timing should work out so that the event is before you and your groom start caring about getting in shape.
It keeps the guest list down. Chances are, you and your parents disagree about how many of their friends to invite to your wedding. So make a deal wherein you invite their top-tier friends to the big event and everyone else to the engagement party. Note: this works especially well if the engagement party is held in your hometown or wherever your parents live.
It's good practice for the wedding. Even if you engineer your wedding to be as much fun as possible, you and your mate will still spend a considerable amount of time on the big day greeting people you haven't seen in years while trying to make your way to the food table. So consider this training.
It's a chance to pause and reflect. After the initial bliss of getting engaged, you and your fiancé may find your conversations too consumed with wedding talk. Even if you try to be low-key about planning, you're bound to have some wedding-related stress. So remember: this is a happy time, an exciting milestone. An engagement party is a nice way to remind yourselves of that while spending time with people who are genuinely happy for you.
And one reason not to: it's expensive. If no one has offered to throw you an engagement party, don't feel obligated to host one, especially if you or your parents are footing a big wedding bill. Of course, that doesn't mean you can't still celebrate by inviting a bunch of friends to toast with you at a local bar.
If you are planning a wedding, happily wed, or looking for Mr. Right, start sharing your big day with our community. Just check the wedding content box on any community post.
Source: Cake Girl by Hyeyoung Kim