Why You Shouldn't Read Into a Guy's Texts
Why You Shouldn't Read Into His Texts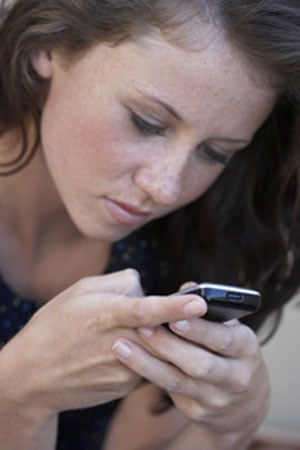 In the wild world of dating, the huge role texting has taken on in our lives is both a blessing and a curse. The blessing is that it's a quick and easy form of communication. You're going to be 10 minutes late? Send a text. You had a really great connection after a date, but you don't want to call immediately? Send a text.
But the curse part comes in the form of the anxiety we get from what he says, when he says it, why he doesn't respond immediately, why he uses stupid emoticons, etc. Contrary to popular belief, men and women speak very similar languages. There's no formal form of "guy speak" you have to translate. You've just got to get out of your own head!
Here's a quick list of reasons why this is a good idea.


The time between texts doesn't account for anything. How long it takes your guy to respond after you send a text is not an accurate gauge of how much he likes you. He's busy. I know you're busy, too. But think about how much more proactive you could be during the day if you compartmentalized your dating life from your work life. Most of the guys I know that I'd actually be interested in dating are really good at doing this.
If he doesn't text back, he probably doesn't want to talk to you. Plain and simple. I've fallen victim to building up the circumstances in my mind. I hope he didn't lose his phone. I hope he didn't lose my number. I hope he's OK. While of course there are exceptions to the rule, here are words for the wise. If he doesn't text you back and you feel awful about it, don't text him again. It's his loss.
If he confesses his love for you via text at 2 a.m., take it with a grain of salt. From experience I can say that this is the best option. If his text is overflowing with typos and something feels a little out of character (like it includes a marriage proposal), check the time and figure out where this is coming from. If he's in Vegas or just at the bar with the boys, it may be a drunk text, and should therefore be disregarded.
Men say what they mean. If he says he had fun, that means he had fun. If he says he doesn't want to see you again . . . well then that's exactly what that means.
It's a waste of time. I know that giving up our reliance on texting is no easy task. You hate it when you're waiting, but you love it when he responds. And if you've been conditioned like me, you're attached to your phone and you grew up in the world of instant messaging. But here's the thing, it's time to remember that you're far too special to be wasting your time worrying about a problem that may not even exist.

The moral of the story? Here's what you should be deciphering from his texts: nothing.