Women in the 1950s Partied Like Ladies, According to the Times UK
Girls' Night Out: From Beer Picnics to Binge Drinking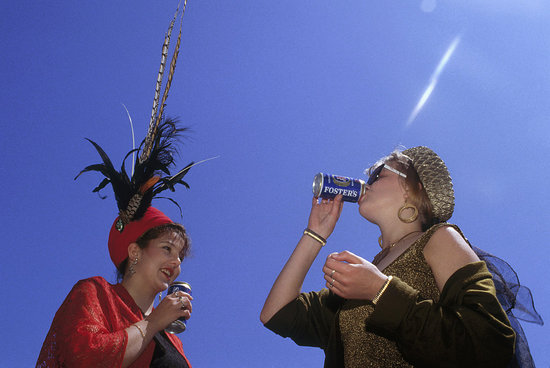 Women in the 1950s partied like proper ladies, while today's female drinkers are boozy sluts — at least, that's the conclusion reached by this ridiculous story in the Times UK. The comparison is based solely on a photo of "girls' day out" published in Picture Post magazine in the mid '50s versus a massive generalization about modern women:
They dressed demurely in calf-length dresses and hats and struggled to hold down their skirts on the roller coaster ride.

Fast forward to 2010. A girls' night out ends not in giggles and cheery partings but in a drunken heap on a pavement or slumped against the window of a fast-food restaurant.
Wow, way to stereotype! Sure, plenty of modern women have gotten drunk and gone out for late-night burgers; I'm sure we can even find photographic proof. But so have many modern men. And I'm sure men were drinking their fair share in 1950s Britain, when women were allowed this "once-a-year" treat.
So how else were the ladies of the 1950s more civilized, according to the Times? Keep reading.
In the '50s, the gals wore "their best frocks" for a "boisterous, boozy knees-up filled with laughter and song." Trust me, today's young women still take getting dressed up for a night out very, very seriously.
According to Grace Robertson, who took the '50s photo: "The women came to the pub in the morning, prepared sandwiches for the day and loaded the coach up with beer before setting off." Having beer for breakfast, then loading up the car with more beer? Oh yeah, that sounds wholesome.
Robertson also claims the '50s girls "bear absolutely no resemblance to the groups of young women you see nowadays having a night out. These women would have been ashamed to have behaved like they do, spilling out into the street and being sick." But, she adds: "the driver had a terrible job herding them all to move on to the next stop."
Then, there's this tidbit: "Female photographers in journalism were very unusual at the time." About as unusual as women being allowed to enjoy a boozy excursion in the company of other women more than once a year? I say, we've come a long way.