Women at the 2012 Olympics
Wins For Women at the 2012 Olympics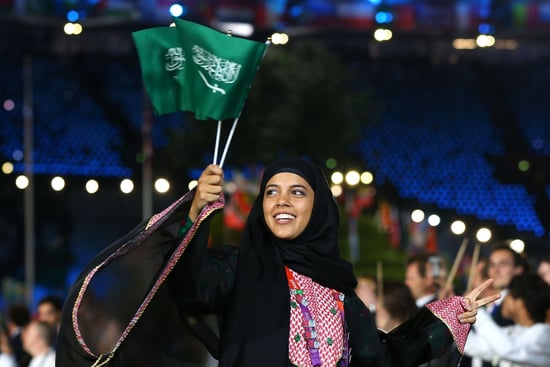 Sure, we've been dazzled with the crazy-hot male Olympians competing at this year's London Games, but it's the women who are really making waves this year. There are a number of firsts for female athletes at this Summer's Olympics, including a record for the US team and strides being made for the Muslim countries competing. Here are the wins for women we're excited about:
Three countries sent women for the first time: Saudi Arabia, Qatar, and Brunei. These include shooter Bahya Mansour al-Hamad from Qatar, runner Sarah Attar of Saudi Arabia (pictured), table tennis player Aia Mohamed of Qatar, sprinter Noor Hussain al-Maliki of Qatar, Brunei's hurdler Maziah Mahusin, and Saudi Arabian judo competitor Wodjan Ali Seraj Abdulrahim Shahrkhani.
This is the first Olympics to have women compete from every country participating.
At eight-months pregnant, 29-year-old Malaysian shooter Nur Suryani Mohd Taibi competed just weeks away from her due date. Out of the three pregnant women who have ever competed at the Olympics, she was the farthest along.
This is the first time the US team has had more women competing than men. Team USA is composed of 530 athletes with 261 men and 269 women.
For the first time, women's boxing is included in the Olympics. Female boxers can compete in three events.
US skeet shooter Kim Rhode became not only the first American woman, but the first American, period, to win individual medals in five straight Olympic Games. The 33-year-old won her first Olympic gold medals when she was just 16!
With these advances come growing pains, as Saudi Arabia's judo competitor Wodjan Ali Seraj Abdulrahim Shahrkhani almost dropped out when the Olympic federation ruled that she wouldn't be allowed to wear her hijab while competing. It should also be noted that the IOC heavily influenced Saudi Arabia, Qatar, and Brunei's decision to allow women to compete this year. But at least this pressure has given these women new opportunities, and they'll hopefully be able to serve as role models for future generations of women.