Women Are Better Than Men at Three-Minute Tasks
What Do You Think Women Do Better Than Men?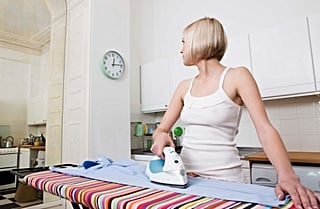 In the war between the sexes, women are winning the battle against three-minute tasks. New research has concluded that compared to men, women are better at almost every chore that takes three minutes to complete. Such missions include arranging a doctor appointment, winning an argument, writing a shopping list, and ironing two shirts. The study was commissioned by Gaviscon heartburn medicine, which claims to work in less than three minutes. Get it!
The Daily Mail has extrapolated these finding to suggest that women should do the household ironing, since they're better at it! Although, if all the ironing only took three minutes, who would dread it? On the other hand, men in the study did prove better at replacing a tire, reading a map, and — wait for it — changing diapers.
Since we're on the subject of sweeping generalizations, what have noticed women in your life do better than men?