Women's Body Language in Ads
Body Language Behind Advertising's Famous Head Tilt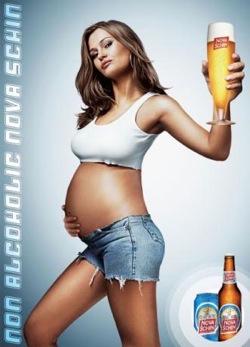 The blog Sex, Gender, Body pointed out today a trend spotted in Korean ads: women pose with their heads tilted. I didn't have to look hard to find the same thing in American advertising.
On one hand, it's just logical. Models just can't stand there. They need to pose and look attractive, and the tilted head does both. We know body language is layered with meaning, which we've all tried to decipher, so what does the tilted head say?
First, and most obviously, it expresses curiosity and interest. We tilt our heads when listening closely or thinking deeply, but it goes beyond that. A tilt to the right reads as trustworthy (like this ad telling us nonalcoholic beer is so OK, we can drink while eight months pregnant), while a neck cocked to the right enhances attractiveness.
Another, more nuanced meaning, is that an exposed neck is a form of submission and is aggressively flirtatious. An exaggerated tilt makes the model look shorter and smaller, which is what Sex, Gender, Body spotted on this side-of-a-bus Uniqlo ad.
Whether the neck tilt's conveying mere interest or full-on submission, it's all about looking flirtatious and hot. No surprises there, but fun to watch for nonetheless.