Women Go Topless at Anti-Topless Rally
Boob Battle: Women Bare All to Protest Anti-Topless Rally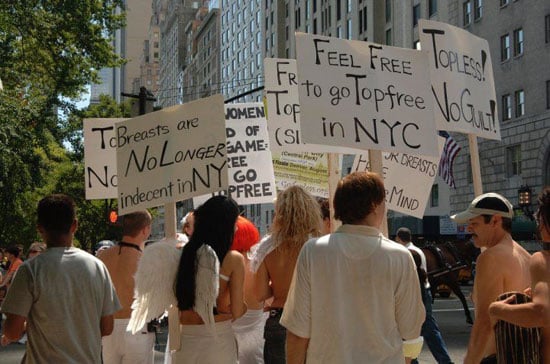 The organization GoTopless, which believes women should have the same rights as men when it comes to being bare-chested in public, organized a protest yesterday for National Go Topless Day. But some groups weren't happy about the event and organized their own anti-topless rally in North Carolina. So naturally, two women protested the anti-topless rally by taking off their tops. They would have succeeded, but then one woman took off her pants and was promptly arrested.
The organizers of the rally against the GoTopless event, including former city Councilman Carl Mumpower and former county Republican Party Chairman Chad Nesbitt, said that adults who allow their minor children to attend topless events are guilty of child abuse. Carl said going topless is part of a "conspiracy resulting in the sexual violation of our children" and it's a "sexual performance."
What do you think about going topless in public? Are there ways that it can be done without it being sexual?