Women Are Nicer - And Nicer Is Better For Businesses
Nice Girls Could Change the World — If We Could Just Stop Being Its Doormat First
Here's a post from OnSugar blog Life Forward.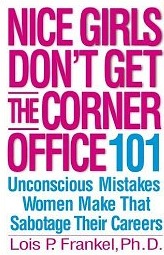 The nice woman is the new nice guy.
If the nice guy was the stereotypical shlub who was used by his date, stuck with the bill but never got a kiss at the end of the evening, the nice woman is the professional version. Caring too much about her colleagues and company, she fails to negotiate effectively for a better salary or promotion, becoming bargain rate labor in the hands of a Machiavellian management.
There are those who would use this as proof positive that if women are going to be altruistic, less aggressive, and, generally speaking, nice, then complaining about the wage gender gap is hypocritical. The Ignorant Men Holding Hands and Hating Feminists are a classic example (albeit an extreme disreputable one) of a group that seeks to use the fact that women, as a gender, tend to be less aggressive than men, against us, somehow equating that nice-ness with weakness to be simultaneously derided and preyed upon. Lois Frankel has authored an entire series of titles beginning with "Nice Girls dont... <insert success here>" designed to toughen us up. She's not alone - the immediate, micro solution to being taken advantage of is fairly obvious - toughen up and stand up for yourself - or you deserve to be taken advantage of.
Is our only option then to lose our empathy for others and embrace a dog-eat-dog morality? Maybe, maybe not
Nancy Folbre is hypothesizing a different, and, frankly, more fair outcome - "...pay differences among all individuals — as well as gaps between men and women — reflect differences in personality, preferences and principles as much as productivity. If this true, then policies like executive pay restrictions and higher marginal tax rates would not necessarily lower productive contributions. They might even discourage selfish opportunism that can be counterproductive to society."
Take away the carrot of management compensation based upon net income or gross receipts and you reduce the risk of financial statement fraud, wherein management is motivated to overstate earnings to increase their bonuses. According to Folbre's theory, with women who are more big picture minded, doing so would not limit management's productivity.
Someone who cares about others instead of their own paycheck and office size seems better suited to the task of running a company, where the actions of the CEO have impacts far reaching not only on his or her employees, but on all stakeholders - customers, neighbors, investors, rippling outwards like a stone thrown into a pond. Being able to see the big picture then, leads to better planning, for herself, the company, and all those stakeholders. How can that be a bad thing?
After all, when we all do better, we all do better.
What do you think? Should better teamwork be rewarded? How do we break out of our Machiavellian reward system? Comment below to discuss!
Here's an excerpt from OnSugar blog Life Forward.