Women Who Have Affairs With Priests Write Open Letter to Pope
Love Letter to Rome: Women Say Priests Need Them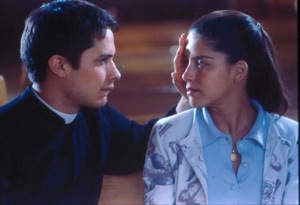 European men have a reputation for keeping mistresses, and in Italy, that includes the Catholic priests. In parishes, rumors spread that local priests have unholy relations with women presented as their housekeepers or cousins. One woman explains, "Years ago, we had a priest here, Don Giorgio, he was a schoolteacher. The kids liked him and so did their mothers." Mon dio.
The women who love priests say they've been forced to stay in the shadows, even though the Church hierarchy knows about the affairs. "Bishops know that priests are not celibate, but they don't care about this." One woman who had a relationship with a priest for five years tells NPR. "They say, please do what you want but do it anonymously, nobody has to know, otherwise scandals arise and we cannot afford this, so please do what you want but don't let the world know about this, and [most] of all don't make it children." So priests can use birth control or are they talking about pedophilia?
Like any marginalized group, the mistresses have started a website for support. And in an open letter to Pope Benedict XVI, the say a priest "needs to live with his fellow human beings, experience feelings, love and be loved." They might be right. Mental health counselor and former monk Richard Sipe compares forced celibacy to an alcoholic practicing sobriety without any support.
While it's clear the Church is hanging on to celibacy for now, evidence suggests that the male-dominated leadership will let the clergy have sex before they let women become priests.