Would Saying Yes Sex — Every Time — Make You Happier?
Could Saying Yes to Sex — Every Time — Make Us Happier?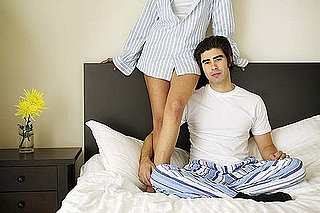 New York magazine asked 50 people who know a thing or 50 about making people happy what we can do to find the simple joy in life. From rabbis and professors to personal trainers and hairdressers, they gave advice as cynical as "don't leave your apartment" and as life-changing as "forget brown-rice sushi."
But tip #13 from cofounder of sex-toy shop Babeland, Claire Cavanah, caught my attention: "Just say yes every time your partner wants to have sex." It's definitely provocative, but is it useful? "It's only 20 minutes out of your day," says Cavanah, "and it makes you both feel better."
It made me want to get all huffy at first, but she makes a solid case. Could you live up to it? Or wouldn't you want to?