Would You Rather Attend a Wedding Alone or With a Date?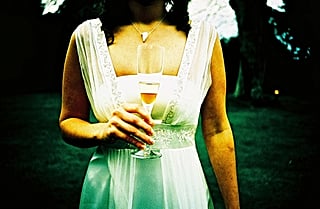 Even if you're in a long-term relationship, it's likely your significant other won't know anyone at a wedding besides you. And even if he does, it's probably through you. So whether you bring a new boyfriend or an old friend, being the only link can be more burdensome than fun.
After all, there are probably lots of people you haven't seen in a while; you'll want to catch up and get all referential. And the only thing less fun than feeling left out of a conversation is worrying about another person feeling left out.
But dates have benefits, too. Having someone to return to when conversation lulls elsewhere can make up for whatever entertaining you have to do the rest of the night. So would you rather use your plus one, or go solo?


If you are planning a wedding, already happily wed, or still looking for Mr. Right, start sharing your big day with our community. Don't forget to check the wedding content box on your post.
Source: