Year of the Snake Personality Traits
4 Things to Know About People Born in the Year of the Snake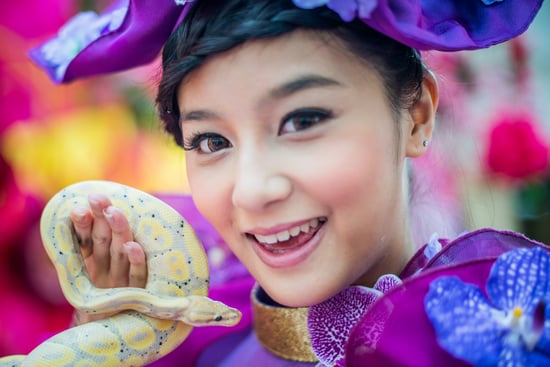 Come Sunday's Chinese New Year celebrations, the world will welcome in the year of the snake. Although you might run away if you ever come across the slithering land animal, people born in the year of the snake are known to be experts at drawing people toward them. Those lucky enough to have the snake as their Chinese zodiac, which includes people born in 1953, 1965, 1977, 1989, and 2001, are considered attractive and sophisticated. But there are also some not-so-positive qualities traditionally associated with the snake sign. Let's take a look at the good and the bad.
Snakes Are Charmers
When you consider Grace Kelly, Jacqueline Kennedy, and Audrey Hepburn were all born in the year of the snake, it makes perfect sense that those with the sign are considered exceptionally attractive. In both the personality and looks departments, snake signs have the seductive qualities that draw people to them.
They're Hopelessly Devoted
Those with the snake zodiac are very devoted to their partner — and they expect the same loyalty in return. This devotion can turn dark with jealousy and possessiveness. On the up side, they manage to make their partner feel secure and loved. The best matches, according to tradition, are people born in the year of the tiger, pig, horse, or monkey.
Mystery Breeds Sophistication
The snake sign indicates that a person is private and hard-pressed to show outward emotion. They often think through decisions and keep their plans to themselves, which make them one of the least-trusted signs in the Chinese zodiac. But being perceived as mysterious can also lead to an air of sophistication. Specifically, women born in the year of the snake are considered graceful and fashionable, especially when it comes to details. So when you notice a friend who always has a perfect manicure or interesting accessory, there's a good chance she's a snake!
They're Able to Shed Their Skin
People born in the year of the snake aren't easily unnerved. And after they do face a time of crisis, they manage to "shed their skin" and come back stronger. Makes perfect sense.