Zoning Rules Don't Consent to Sex Parties
Zoning Rules Don't Consent to Sex Parties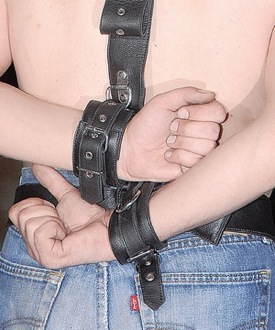 The Party Police totally killed the vibe recently in one Maryland neighborhood. Families in the close-knit Bethesda community weren't happy that neighbor Paul Pickthrone was hosting "bondage and discipline, dominance and submission, sadism and masochism" (BDSM) parties in his castle-like house that is decked out with dungeon apparatuses. As one participant explained, the parties attracted a diverse group:

"Men, women, transgender, heterosexuals, gays, bisexuals. Every ethnicity. White-collar and blue-collar. It's really very, very diverse — though we do have an unusually high percentage of lawyers. I don't know why."
Despite the cross-section of people, the nonkinky residents wanted to put an end to the "sex parties." But since the law does not regulate what activities people can consensually engage in at a party, the police couldn't do anything — until they found a loophole. Paul collected donations to cover the cost of hosting the party, and he donated the rest to a sexual freedom group. Since money changed hands, zoning officials declared that he needed a commercial permit. So now Paul must either cancel his parties or stop collecting donations. I'm guessing his next event will be BYOW (bring your own whip).
Would you get upset if your neighbor hosted sex parties?
Source: Flickr User Pro Bondage