#aGoodBoyfriend Qualities on Twitter
What Makes #aGoodBoyfriend?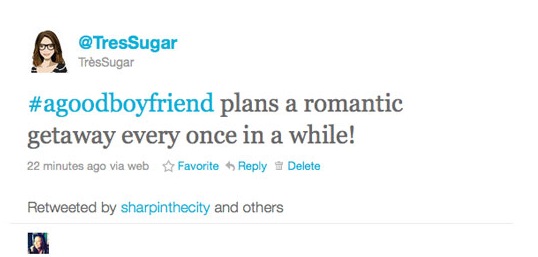 If you're wondering what makes a good boyfriend, look no further than one of the top Twitter hashtags today: #agoodboyfriend. We were curious about what the Twitter community had to say about the best qualities of a BF, and the tweets ran the gamut from sweet to hilarious. But one thing's for sure, grand gestures aren't always necessary; it's all about the little things that make a good boyfriend (like surprising you with a huge bag of Twizzlers!). See a smattering of our favorite responses below:
Do you have any to add?
And don't forget to follow @TresSugar on Twitter! It's another way to get your fix of our smart, sexy, and fun content and see exclusive updates in your Twitter feed! See you there!