Should You Do First-Look Wedding Photos? Here's What to Consider
Among the many decisions couples make ahead of the big day are first-look photos: to take or not to take? When it comes to couples seeing each other before the wedding ceremony, religious and cultural traditions vary, so there are a number of reasons couples might choose to stage first-look pictures earlier in the day.
The "first look" is typically a special, private moment for the couple that's captured by the wedding photographer. Why do people do it? Beyond religious customs, one practical benefit is being able to take pictures with the bridal party and family members ahead of the ceremony. That way, friends and family can go straight from the ceremony to the cocktail hour or reception without having to take a photo break. Meanwhile, some couples may choose to have a first-look moment so that they can get some alone time during a chaotic day, and others may see it as a way help their nerves. In any case, if you're weighing the pros and cons and wondering whether first-look photos might be right for you, check out some of the factors POPSUGAR editors considered when they were planning their weddings.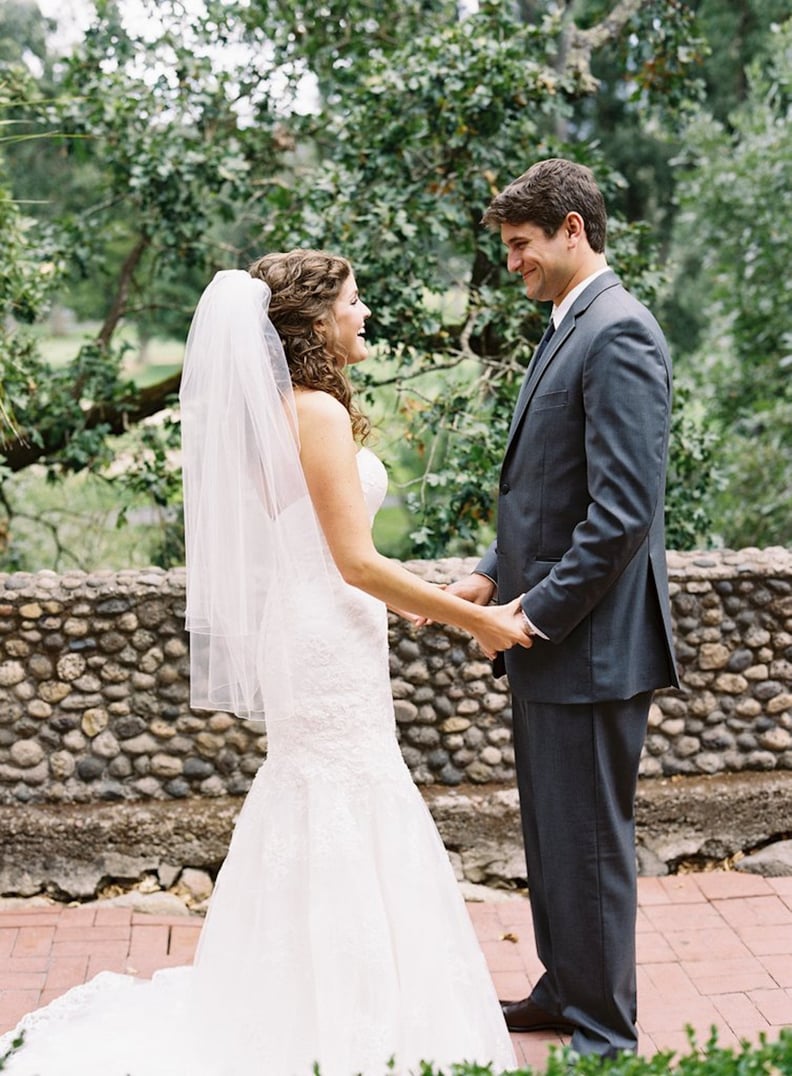 If you do a first look, you're less likely to become an emotional mess when you walk down the aisle.
"It doesn't take much to make me ugly-cry, and just the thought of walking down the aisle with my dad had me reaching for tissues. I didn't want to break down before the ceremony even started, and my husband liked the idea of sharing a quiet, special moment together before things got too chaotic. I can still see my him waiting for me at the end of a courtyard, his back to me as he nervously shifted his weight from one foot to the other. When I tapped him on the shoulder and he turned around, we both lit up and started laughing. It was the best." — Laura Meyers, editor, Trending and Viral Features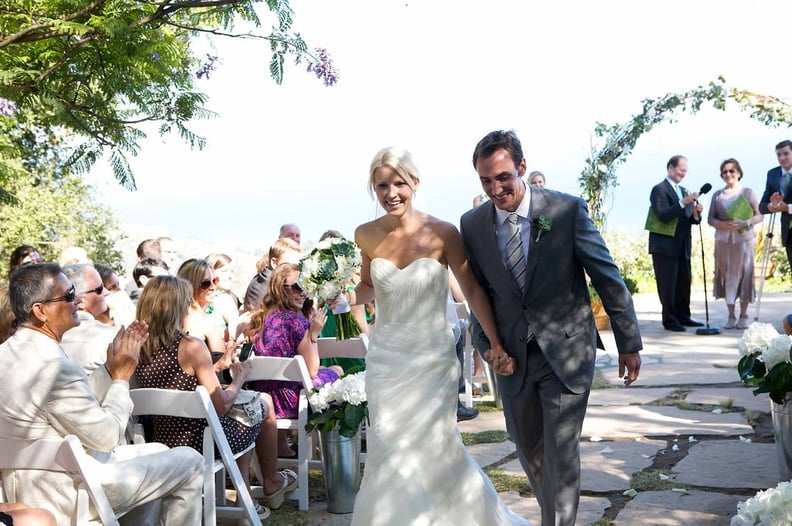 . . . But there's something special about seeing each other for the first time during the ceremony.
"The first time I saw my husband that day was as I walking down the aisle. I wanted to save that moment and wasn't sure a first look would have been as special. We also felt weird that we'd have pictures from our wedding of us together, but we wouldn't actually be married in them (silly, I know!). I'm happy with our choice, but I will say I was super nervous before walking down the aisle, so a first look might have helped with that." — Lauren Turner, director, Editorial Operations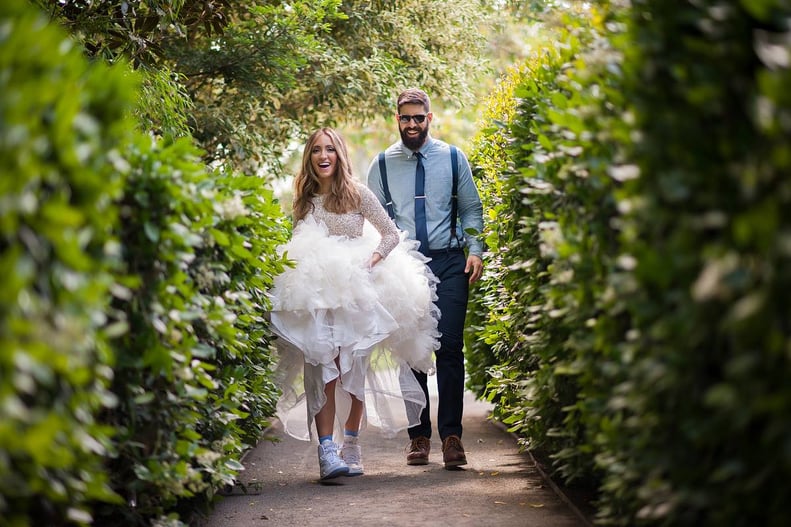 You can decide what first-look pictures actually entail.
"We did not do formal first-look photos, but we had our photographer there when we came together before the ceremony started for behind-the-scenes pictures. The photographer followed us around throughout the day, so the first-look-y photos are actually of family and friends all hugging/drinking/talking. No one is looking at the camera. It just feels authentic." — Rebecca Brown, editor, Shopping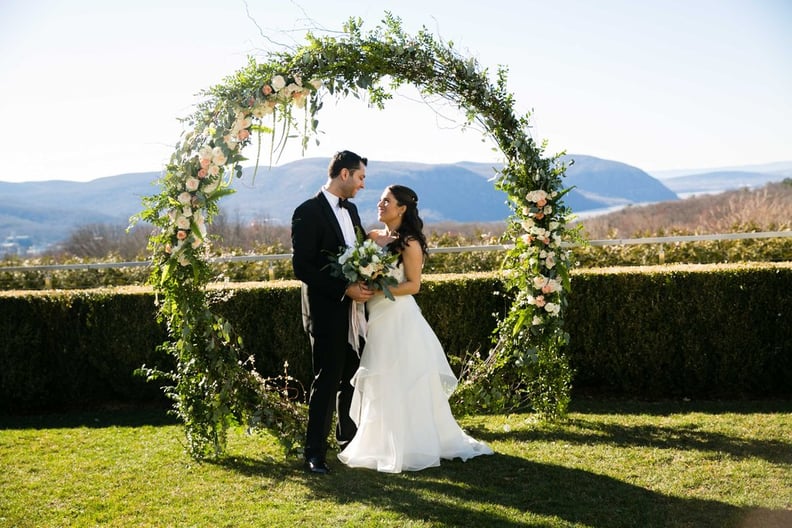 First-look photos are so special — and you can spend more time with your guests!
"I always knew I would do a first look, so I could get photos while it was light out. Also, that ensured I could spend cocktail hour mingling with guests (and eating! Time to break that wedding diet!). I have no regrets about my decision, and we have awesome photos and videos of me tapping my husband on the shoulder, him turning around, and seeing me in my white gown for the first time. Also, we needed to do it beforehand since in a Jewish ceremony the couple signs a ketubah right before the actual ceremony. The ketubah signing is when you are actually first married!" — Lauren Levinson, senior editor, Beauty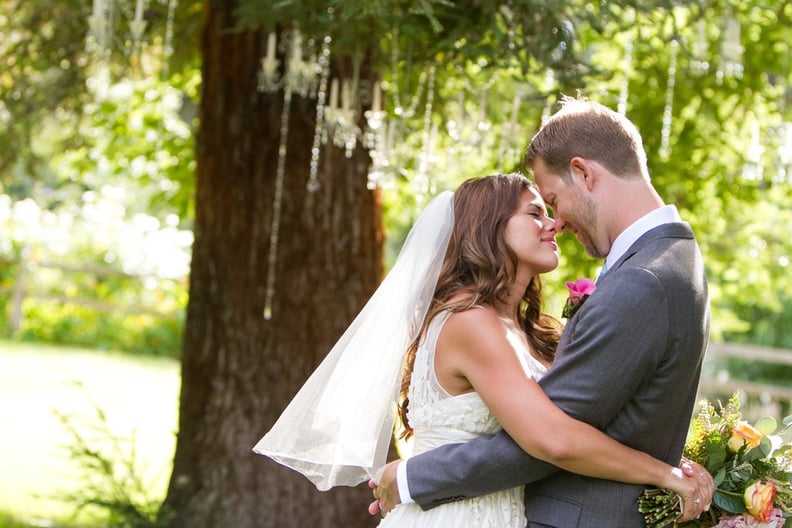 Important: if you don't do them, you could miss out on killer appetizers.
"I chose not to do first-look photos, and I actually had mixed feelings about it. I chose not to because I really wanted that movie moment of my fiancé seeing me come down the aisle; I wanted to lock eyes with him (and maybe see him cry, which he totally did) walking down the aisle toward him and have that be the first time we saw each other. So why do I regret it? Because we missed cocktail hour to take the couple photos. I'm so glad we have those, but I was jonesing so hard to stop being posed and to make a break to hang out with our friends and family, have a drink, and eat all the glorious food. There were entire wheels of cheese, and we missed out on most of it because we were taking photos. Like the photos are great, but entire wheels of cheese, I said." — Shannon Vestal Robson, editorial director, Celebrity and Entertainment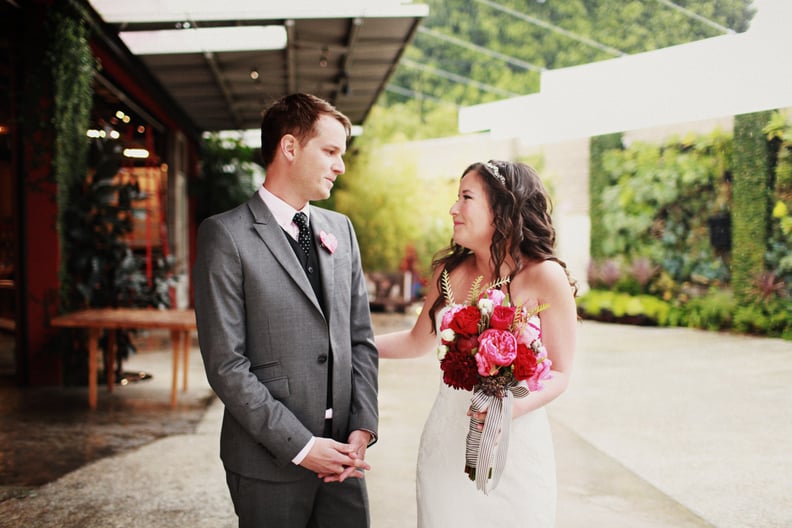 It's the most intimate time you'll have together that day.
"You spend a majority of your wedding day surrounded by other people — getting ready with your bridesmaids, taking family photos, exchanging vows in front of all your loved ones, and then dancing the night away with your best friends. The first look, for us, was the calm before the storm, an important reminder that when you strip away the sequin tablecloths, budget planning, table assignments, and playlist selections, it comes down to you and him, for as long as you both shall live. It was peaceful, emotional, and sacred. This moment, right here, is what the day is actually about." — Tara Block, editorial director, Living