10 Feminist Moments From GOT Season 7 That Will Make You Damn Proud to Be a Woman
Before we get into it, I'll be perfectly clear: Game of Thrones has not always earned my high praise for its stellar portrayals of women. In seasons past, the show featured what many perceived to be gratuitous sexual violence (see: Sansa and Ramsay Bolton's disturbing rape scene from season five), and women were brutalized and overly sexualized so often that I nearly stopped watching altogether.
But the HBO drama turned it around in season six, crafting complex, female-led storylines that let the ladies of the Seven Kingdoms do what they do best — rule. And if the first installment of the seventh season is any indication, the women of Game of Thrones are only going to continue running things from here on out. Between Sansa's fierce critiques of her brother's military leadership and Lyanna's delivery of the epic feminist speech heard 'round the world, Game of Thrones is quickly becoming one of the most empowering shows on TV. If you ask me, it's about damn time.
Ahead, check out some of the most badass, feminist moments from Game of Thrones' seventh season, and then go place a very safe bet on a woman winning the Iron Throne.
01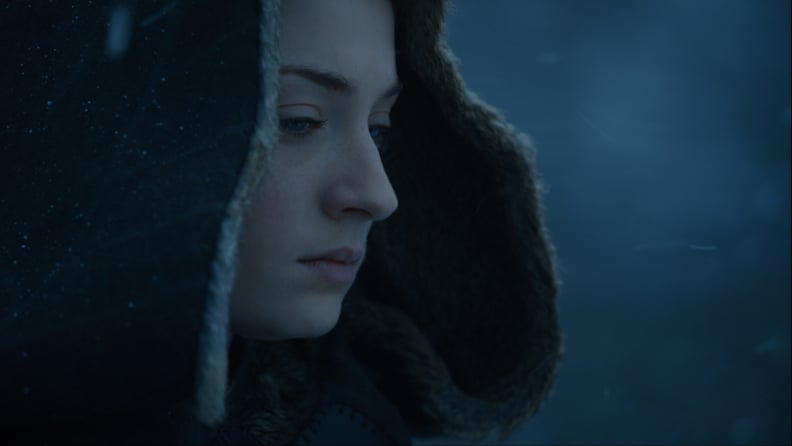 When Sansa and Arya Prove Sisterly Bonds Aren't to Be Messed With
Littlefinger has been trying his best to drive a wedge between Sansa and Arya all season long, but it majorly backfires for him in the season finale. Just when he thinks he has the Stark sisters wrapped around his finger, Sansa pulls the rug out from under him and reveals that she and Arya have been plotting against him together this whole time. Note to self: never underestimate the staying power of a sisterly bond.
02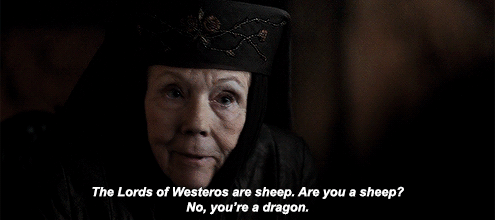 When Olenna Tyrell Gave Dany Solid Advice
There are many voices competing for Daenerys's ear in episode two, but Lady Olenna Tyrell's was the only one worth listening to. "I've known a great many clever men. I've outlived them all. You know why? I ignored them." You can't argue with that logic, especially since heeding Tyrion's advice didn't exactly do Dany any favors during this episode.
03
When Missandei Took Matters Into Her Own Hands
How does that saying go again? If you want something, you have to take it? Well, that's exactly what Missandei did in this season's second episode, finally making the first move when it seemed like Grey Worm might never work up the nerve to do it. Props to a lady taking the initiative to get what she wants.
04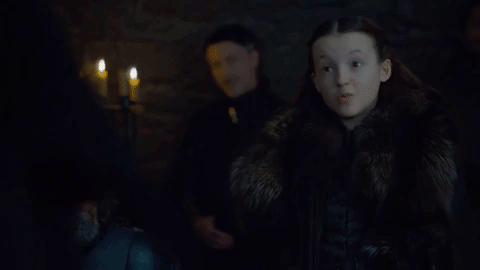 When Lyanna Mormont Gave Us a New Feminist Battle Cry
My coworker summarized this speech perfectly when he said that someone needs to just put the whole thing on a f*cking billboard already. I basically jumped off my couch and cheered when young Lyanna declared, "I might be small, Lord Glover, and I might be a girl, but I am every bit as much a Northerner as you. And I don't need your permission to defend the North."
05
When Sansa Shut Down Littlefinger — Hard
Littlefinger is totally unaccustomed to people being anything less than impressed with his wit, which makes watching Sansa shut him down at the start of season seven all the more satisfying. Sorry, Lord Baelish, but not everyone is so easily dazzled by your clever comebacks anymore.
06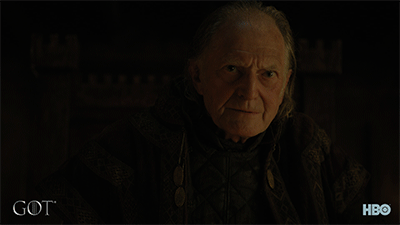 When Arya Brought Down the House (Frey)
Murdering a room full of dudes (even really terrible ones) probably doesn't qualify as a feminist act, but this scene was so badass. Who needs to wait around for karma to get the men who wronged your family? Definitely not Arya, because she handled it her damn self. Even if she is a tad bit evil, you have to give it up for a lady who is as cunning and cutthroat as all of the men in Westeros combined. (And hey, at least she looked out for her fellow ladies in the room, right?)
07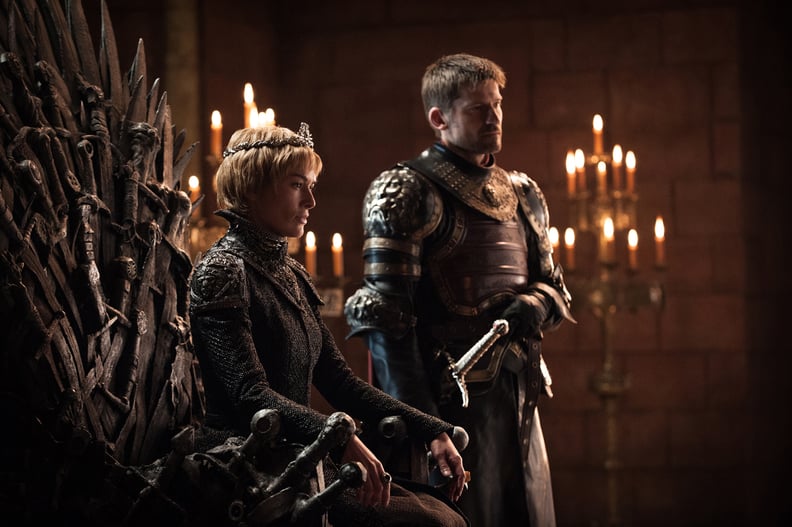 When Cersei Shot Down Euron's Proposal Without Blinking an Eye
At the start of season seven, Cersei is in dire need of some allies, so there's no question that she could have accepted Euron Greyjoy's proposal just for the sole purpose of gaining the Iron Islands' fleet. But Cersei is not one to leave her livelihood in the hands of another, especially not another man. Watching Cersei shoot down Euron's proposal while letting him know precisely how low her opinion of him is was pretty freakin' awesome.
08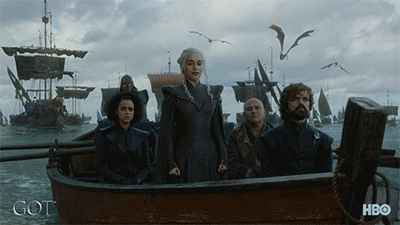 When Dany Got Her Own Throne
Watching Daenerys lead her fleet of ships and dragons into Dragonstone and reclaim her family's former kingdom was one of the most empowering moments on the show. After all, I'd imagine that her ancestors never imagined a woman would be the one to take back their homeland. This moment was doubly empowering because with Dany on the Dragonstone Throne, we now have not one but two powerful women ruling in separate kingdoms.
09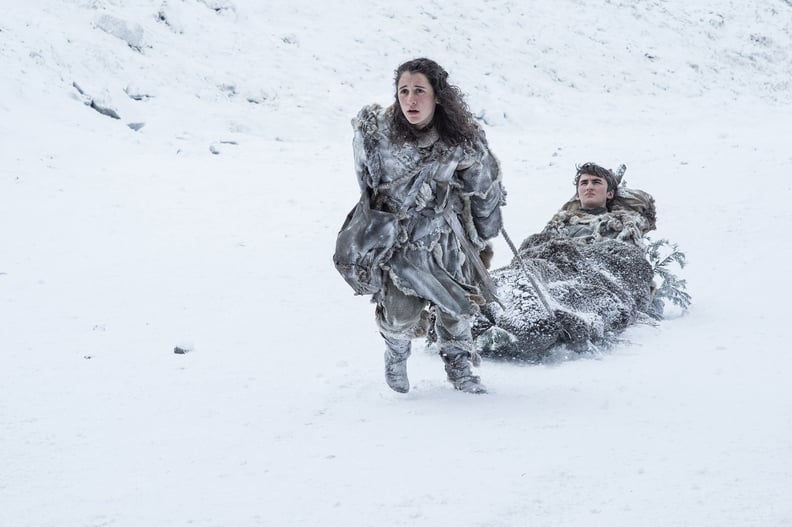 When Meera Finally Gets Bran to the Wall
Meera is truly the unsung hero of GOT, if you ask me. It would probably be miserable enough to trudge miles through snow with White Walkers lurking in the distance — but doing all of that while dragging the weight of a whole teenage boy behind you? I'd definitely pass on that mission, thanks. In the opening episode of season seven, we watch Meera make it to her destination at last with Bran in tow. Props to Meera for quite literally carrying the weight of a man on her back and proving she's tough as nails in the process.
10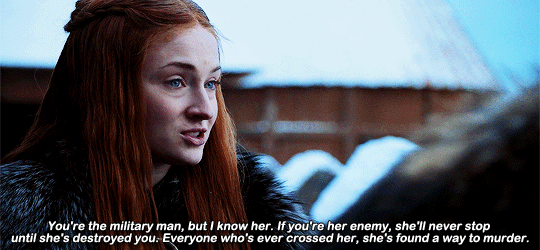 When Sansa Gave Jon Snow a Piece of Her Mind
Jon Snow may be King in the North (for now), but he should probably start listening up to his savvy wingwoman if he wants to survive. Sansa schooled her brother on the art of strategic battle in the opening episode of season seven, proving she picked up a thing or two from another powerful (but equally terrifying) GOT woman: Cersei.