This Is What It's Like to Host a "Weeding" and Get Married at a Weed Dispensary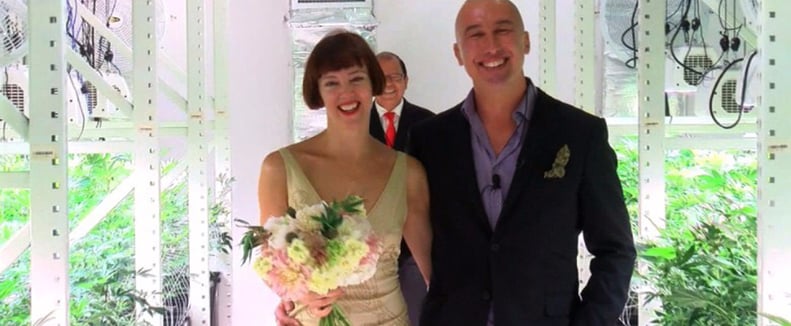 Mark Balfe-Taylor
Mark Balfe-Taylor
When recreational marijuana officially became legal in Nevada on July, 1, Anna and Mark Balfe-Taylor gave friends and family a second reason to celebrate. The nontraditional couple exchanged vows at a massive marijuana dispensary in Las Vegas the same day this controversial law went into effect.
Anna, in an antique Versace dress, walked down an indoor aisle lined with lush greenery as purple grow lights illuminated the ceremony. To incorporate their setting, Anna carried a floral bouquet with pops of marijuana leaves while Mark wore a unique boutonnière complete with a special bud.
Although weed bars have become a new wedding trend, the newlyweds didn't plan their nontraditional nuptials around the idea of getting high on their big day or offering guests the opportunity to imbibe. Now as a father, Mark no longer partakes in recreational weed, but his passion for the "taboo" subject began when his own stepfather was jailed years ago for a cannabis-related offense.
"I also had a close friend illegally using medical cannabis to assist a medical condition," Mark told POPSUGAR. "This inspired me to turn my medicinal chemistry degree into a PhD, studying cannabinoids, but my university decided to pull the plug on the study as it was too taboo during that period. Hence us wanting to celebrate the freedom of this beneficial, harmless substance clouded by politics and corporate agenda."
After Mark came up with the idea for the unique venue, Anna immediately agreed that it was a romantic idea, and the couple only had two days to arrange their time-sensitive plan. "As a previous recreational smoker, until parenthood, I wanted to advocate its use, as compared to a legal drug like alcohol, that has no medicinal value," Mark said. "The only foolish things I have ever done in my life have been alcohol-related, not through cannabis. The response from friends has been one of admiration for standing up for something we believe in and showing everyone how much we love each other."
Instead of swapping traditional wedding bands, the couple exchanged a black pearl ring and a necklace. "As it's our second time around, we neglected rings and ownership for symbols of our love," Mark said. "We consider ourselves to be more alternative in our thinking anyway; with the vast sums people spend on weddings, we would rather focus on creating a great life together."
To end the meaningful celebration, the newlyweds picked up Mark's two sons from his previous marriage and enjoyed a family dinner on the Las Vegas Strip. "No cannabis was involved, and we just laughed about the crazy day!"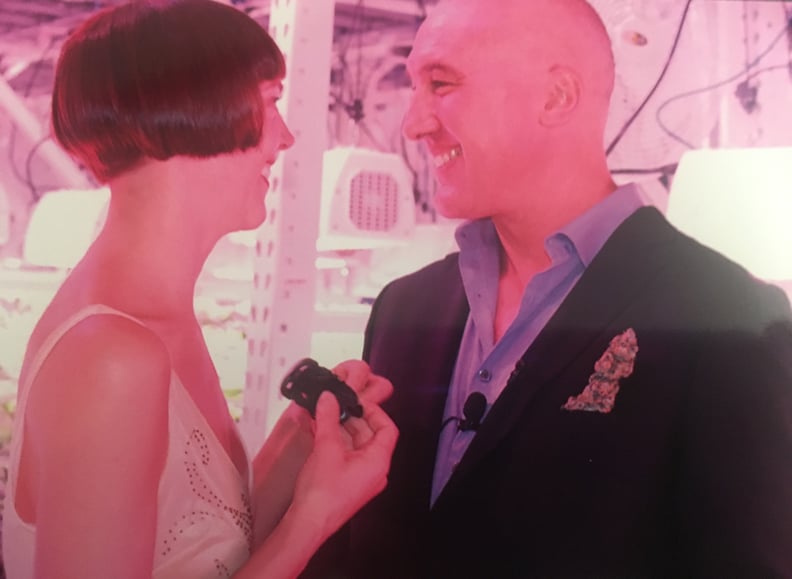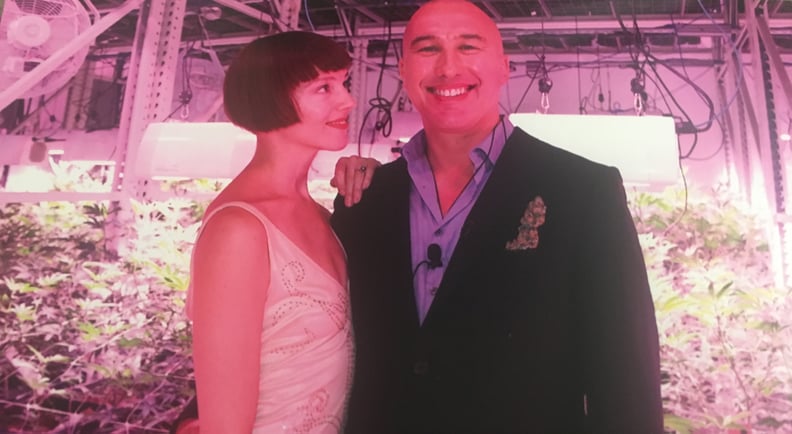 Any cannabis products referenced above are not intended to diagnose, treat, cure, or prevent any disease. The writer is not a medical doctor, and their experience is based on personal use, the results of which may not be typical or intended. The legality of cannabis products varies by state, and readers are encouraged to check their local laws before purchasing and using cannabis products. Nothing in this article should be construed as advice regarding the legal status of cannabis products. Any views expressed in this article by a third-party sponsor are those of such sponsor, and do not necessarily represent the views of POPSUGAR.