I Didn't Shed 1 Tear on My Wedding Day, but That Doesn't Mean I Wasn't Emotional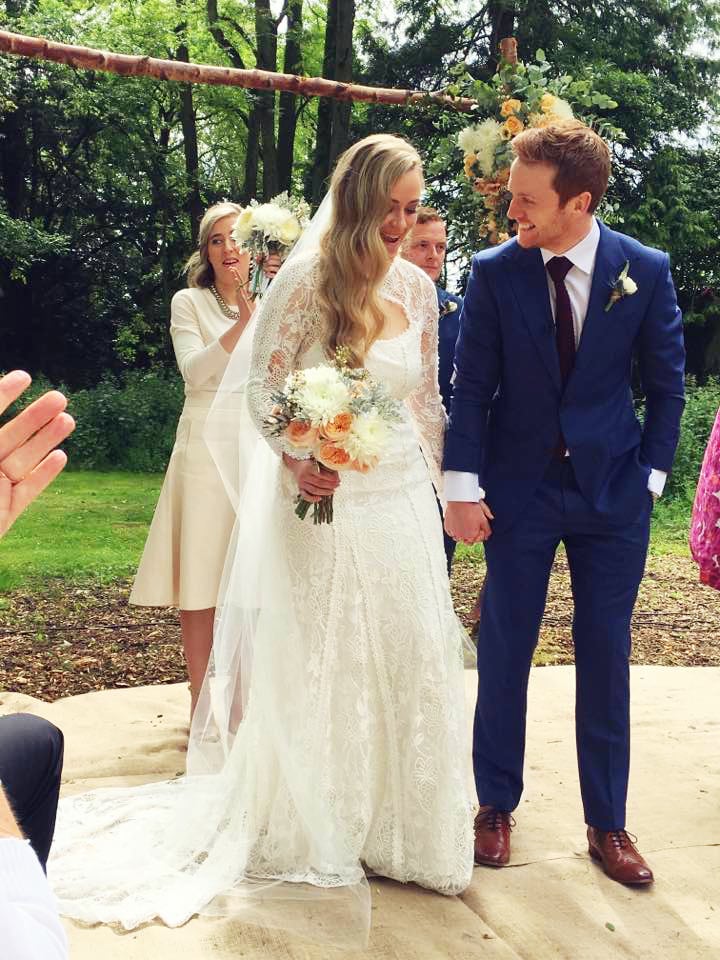 Caitlin Gallagher
Caitlin Gallagher
My wedding day was, without a doubt, the best day of my life. I'm originally from Chicago and my husband is from a very small town in Ireland, so when our two families from different parts of the world finally came together, my heart had never felt so full. I danced until my feet were sore, laughed until my cheeks hurt, and ate until my wedding dress was just a little big tighter. I had never felt more happy, content, or emotional, but I didn't shed one single tear.
My wedding day stirred things in me that I had never felt before, and not shedding a tear turned out to be an extremely beautiful thing.
I'm an emotional person most of the time. And in the months and weeks leading up to my wedding, anything remotely sentimental made me cry. I bawled when Jim and Pam tied the knot while watching reruns of The Office, tried to hide my tears at work while watching proposal videos shared on Facebook, and actually had to get up and take a breather when Father of the Bride popped up while I was watching TV with my dad. I was so in tune with my emotions as my wedding day approached, and every time I thought about my friends and family traveling all the way to Ireland to celebrate with us, or my soon-to-be husband and the amazing life we were starting together, I couldn't help but get overwhelmed with tears. I was a big, soft, sentimental mess.
And then my wedding day came and . . . nothing.
In a sort of twisted wish, many brides dream of people shedding tears on their wedding day, themselves included. And I truly thought I would be one of those people who needed to retouch my makeup frequently throughout the night, especially given how misty I was before the big day. But when I held it together with practically no effort, I realized that what I was feeling was, while strange, even more beautiful than I had anticipated.
Not crying on my wedding day didn't mean I wasn't emotional. It was the exact opposite. When I woke up that morning, I had the strongest sense of calm envelop me. I had never felt more sure about a decision in my life, and I knew in the deepest part of my heart that I was about to marry my best friend. I had so much love and appreciation for my family and friends that were there with me, and my pure happiness and excitement took over and kept any urges to cry at bay. Through our written vows, first dance, and the speeches, I felt so grounded and happy that there were literally no tears to shed.
While every bride is different and crying on your wedding day is also a testament to the love you share with your partner, don't stress at all if you don't. It doesn't mean you aren't emotional. For me, that calm and sure feeling was truly the most emotional thing I've ever felt in my life, just in a way that I wasn't expecting. My wedding day stirred things in me that I had never felt before, and not shedding a tear turned out to be an extremely beautiful thing.