The Backlash For This Female-Only Wonder Woman Screening Reeks of Bitter Male Tears
Do you smell that, dear reader? It's the scent of salty male tears brewing on social media, and man, is it quite the rich concoction.
A movie theater in Austin, TX, Alamo Drafthouse Cinema, decided to plan a "women-only" screening for the upcoming Wonder Woman film to honor the iconic heroine. On the official event page, it reads, "Apologies, gentlemen, but we're embracing our girl power and saying 'No Guys Allowed' for one special night at the Alamo Ritz. And when we say Women (and People Who Identify As Women) Only,' we mean it. Everyone working at this screening — venue staff, projectionist, and culinary team — will be female."
This was all innocent fun and games until some dudes got worked up over the theater's gender-based restrictions — dudes who, mind you, may not have even watched the movie in the first place yet suddenly felt so angry at the fact that they were excluded. Not to mention the fact that there are tons of other nearby theaters where they could've taken their apparently shattered egos to watch the film instead. But I digress.
When Drafthouse shared the news of its female-only screening, many men started voicing their annoyances with the whole thing. (BRB, grabbing a tissue for all the people out there who actually allowed this to upset them so deeply.) All we can say is the person behind the theater deserves a medal for keeping their cool and responding in the most hilarious ways to these complaints on Facebook.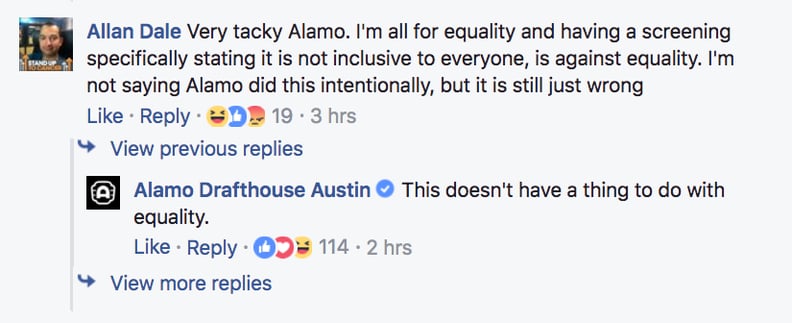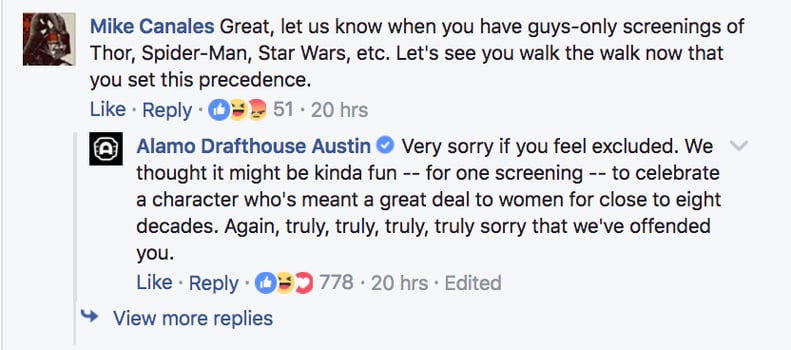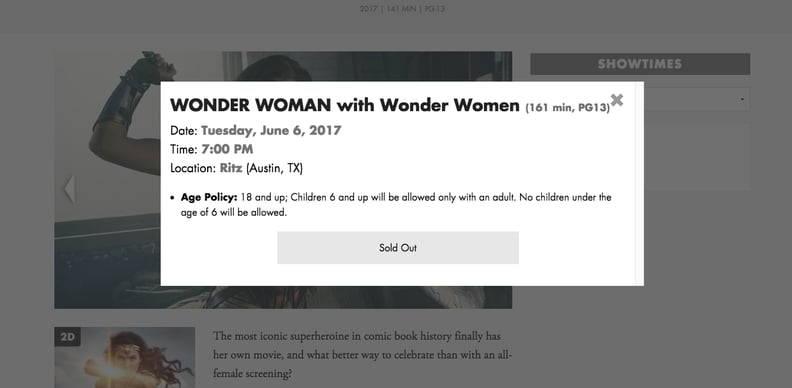 Boo-freakin'-hoo, dudes, but take your male tears elsewhere.