9 Surprising Things That'll Happen on Your Wedding Day
Bridal Guide shares nine surprising things that'll happen on your wedding day. Read this list and be prepared for any surprises.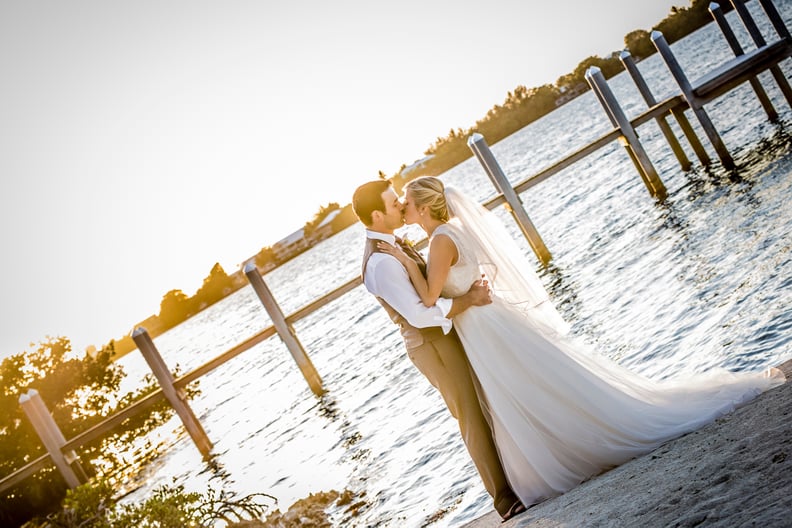 You've booked all of your vendors. You've found the gown of your dreams. But how do you prepare emotionally for everything the big day will have in store for you? Here, check out the surprises that catch most brides off guard.
1. At some point, you'll feel like you're running late.
You may not actually be running late — but let's face it, you probably are. Even if you're a master planner, things happen — your hair takes twice as long as you budgeted for; your bridesmaid gets lost on her way to your house; you can't find your grandfather for family photos during the cocktail hour. Or, you may just feel like you're rushing through everything because you have so much on your to-do list. After you've plotted out your wedding-day schedule, add an extra hour in the morning. It's worth it to wake up a little earlier to avoid that frantic, stressed-out feeling on your wedding morning.
2. You won't eat.
Whether you're too excited, too nervous, or just too busy, sitting down for an actual meal requires serious planning — and we're not just talking about dinner. Make sure you at least eat a hearty breakfast and lunch so that you're not running on empty as you bounce around your wedding reception. (But seriously, try to eat a solid dinner, too — you're paying a lot of money for that meal!).
3. You'll feel a little bit like a superhero.
No one can say "no" to the bride on her wedding day... but with great power comes great responsibility. Use it to your advantage, but don't abuse it.
4. Something will go wrong.
Maybe it's something minor that no one else will notice — like that the flower arrangement you received for your escort card table is so not what you ordered. Or maybe it's something you'll laugh about later, like flubbing your vows. Whatever the case may be, try to take it in stride and remember that no one is paying as much attention to the details as you are.
5. You'll probably cry.
And they may not be happy tears. Tears of frustration, tears of sadness, and tears of relief (the nightmarish reality of planning a wedding is finally over!) are all equally common. Take a timeout if you feel the tears coming on, and prepare yourself ahead of time by waterproofing your makeup and remembering to pat — not rub — your tears away.
6. You won't spend as much time with your new spouse as you'd think.
On your wedding day, you may not see each other until you walk down the aisle, and after that, you're both going to be torn in about 50 different directions — greeting your own friends and family members, dancing with the other important people in your lives, taking pictures with your crew... and before you know it, it's been hours since you've even spoken to your new spouse. Work it into your schedule to spend at least 30 minutes alone together right after your ceremony. Lock yourselves in the bridal suite, or get your own transportation from the ceremony to the reception rather than riding in the party bus with your bridal party. Take a moment to reflect on the amazing commitment you've just made to each other and celebrate together — there will be plenty of time to celebrate with your loved ones after.
7. You'll be wonderfully overwhelmed by the love surrounding you.
It's not often that you get to see all of your family members and closest friends in the same room at the same time, and they're all there to celebrate you. Make sure you spend a few moments with each of your loved ones — have a receiving line after your ceremony, or make sure to visit each table during the dinner service.
8. The day will fly by.
After months and months of planning, it's amazing how quickly the day whizzes by. Try to soak it in as much as you can.
9. Sex may not be in the cards.
Whether it's your first time or your 50th, Hollywood leads us to believe that consummating the marriage is magical, wonderful and, most importantly, critical. But some things are better left on the big screen. You may be too tired, too drunk, too whatever to do it that night. It's okay to save your first time as husband and wife for the following night if you're just not in the mood.
Recent brides, what would you add to our list?
—Kristen Klein
Check out more great stories from Bridal Guide: