Celebrate Period Freedom With This Tampon Delivery Service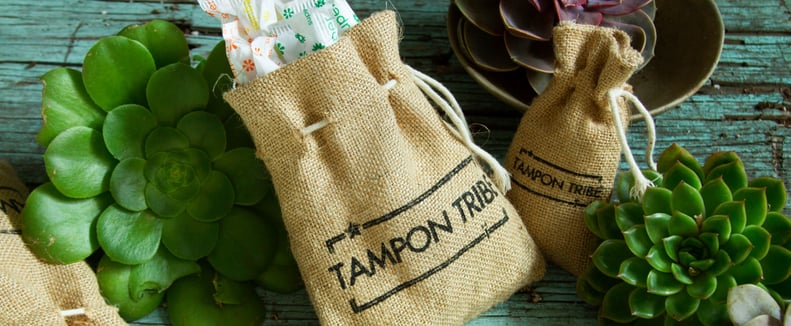 Tampon Tribe
I despise plastic tampon applicators; I cringe at the idea of using a piece of wasteful plastic once and throwing it in the trash. For decades, I have used applicator-free OB tampons almost exclusively, which is one reason I've avoided monthly subscription services like Lola and Cora.
While I couldn't be happier to see so many female-run companies getting into the period-preneurs space, Tampon Tribe is the service that finally won me over for two reasons: it uses no plastic applicators or plastic packaging, and it lets you create a customized monthly box.
Like Cora and Lola, Tampon Tribe's tampons are 100 percent organic cotton and chlorine-free, and they come in a cute burlap bag that's also compostable. By comparison, Cora and Lola use BPA-free plastic applicators, while Lola also offers an applicator-free option, which is the only thing lacking in Tampon Tribe's lineup.
The really cool part about Tampon Tribe is the "You're the Boss" mashup package, which lets you create a customized monthly order of regular, super, and superplus tampons, along with pads and panty liners, so you can order the precise combination of absorbency you need for your personal flow. Price varies based on what you order, but a regular monthly tampon subscription includes 16 tampons for $8.
Like other period-preneurs, Tampon Tribe also has a charitable side: for every month you subscribe, the company supports homeless women with a daily tampon pack. They also employ ex-felons, homeless women, and others looking for a second chance.