This New Instagram Account Is Raising the Bar For Our Relationship Goals
"So how'd you meet?" is usually the first question out of Brooklyn Sherman's mouth when she meets a couple, even if they're complete strangers. She created The Way We Met to document these heartwarming love stories.
"I've always been that way. Friends will joke and tell me I'm so nosy or have no filter. But most of the time people who are in love enjoy sharing the stories of how they met," Sherman said.
I, on the other hand, relish in breakup tales, which is why this account gives my cold heart hope. As you scroll through The Way We Met, you get the story behind the picture of that smiling couple on your Instagram feed. And the stories range widely. Even if the answer is simply, "Tinder," there's more to it. Like this couple posing in a helicopter who matched on Tinder. She then unmatched him because he didn't message her for five days. He sent her a direct message on Instagram holding a sign asking her out. She accepted. He took her out, and they've been together since.
In our age of digital dating, you'd think most of these stories are online, when it's really just a handful. I asked Brooklyn if she noticed a theme with these couples' stories. "The only theme is that there's no theme to love. It comes in all shapes, sizes, and colors. I believe there is someone out there for everyone. My mission is to share stories about average people finding love," said Sherman.
She started The Way We Met by simply searching hashtags like #couple or #soulmate, or if she saw a cute couple on Facebook, she'd message them asking them for their story. Most of these couple aren't Brooklyn's close friends; she even will approach strangers on the street. She does this so she can be unbiased to their story. "If I think it's adorable without knowing them, so will everyone else," she said.
And it's proven to work — as I write this, she has over 22,000 followers and counting.
"There are loving relationships everywhere; it's not a hard thing to find. People are constantly going on their Instagrams to see life pinned so unrealistically," she explained.
"My mission was to put realness back into the world and focus on something positive."
And that's exactly what The Way We Met is. It really gives you hope. Even if the closest thing you have to a commitment in your life is finishing a series on Netflix.
Here are some couples who are just too cute for words.
01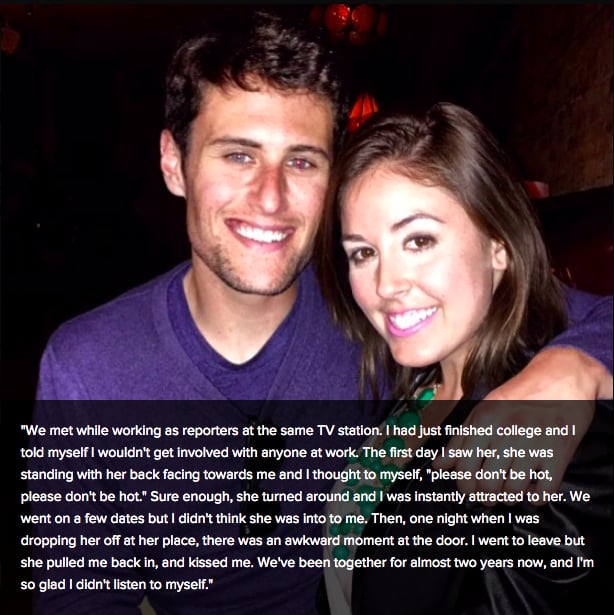 This just in! They met at work.
02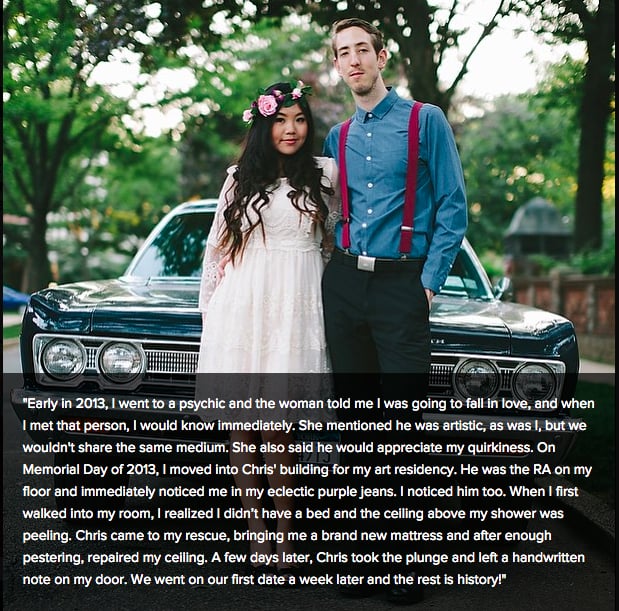 It was predicted by a psychic.
03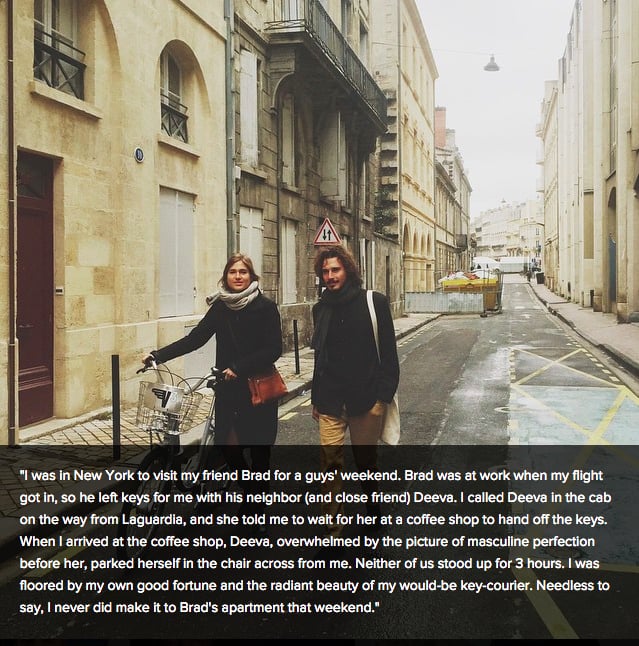 This couple met on a "guys' weekend."
04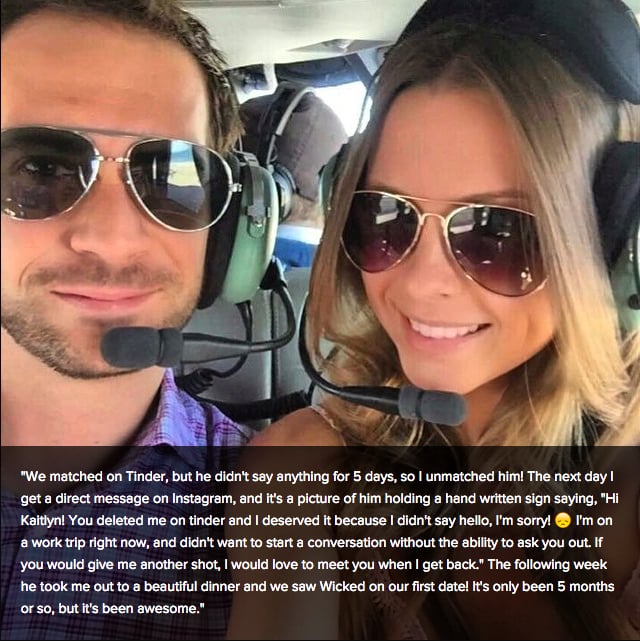 The love that almost wasn't.
05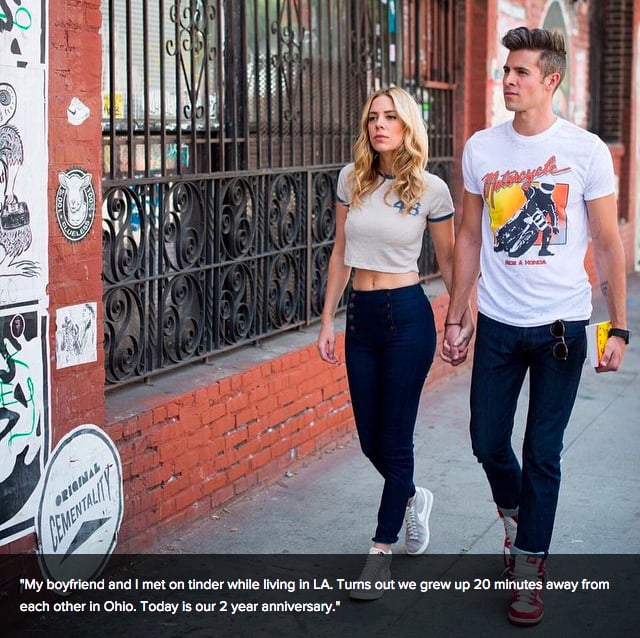 Ohio neighbors who met on Tinder in LA.
06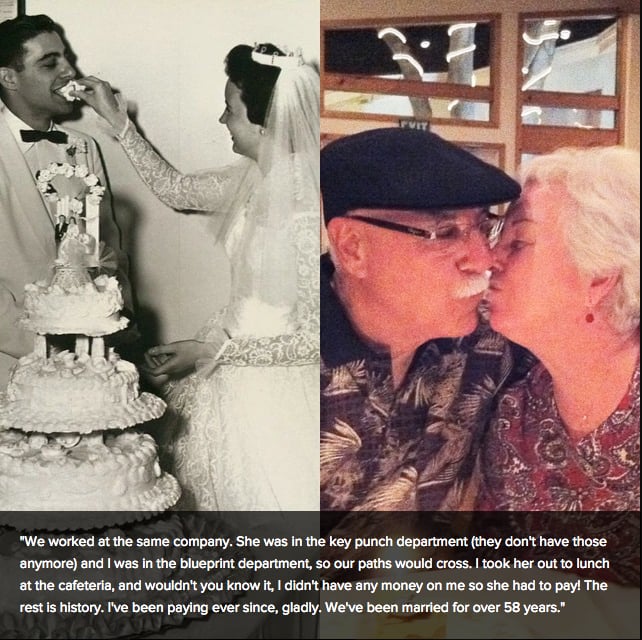 She paid for the first date, he paid for all the rest.
07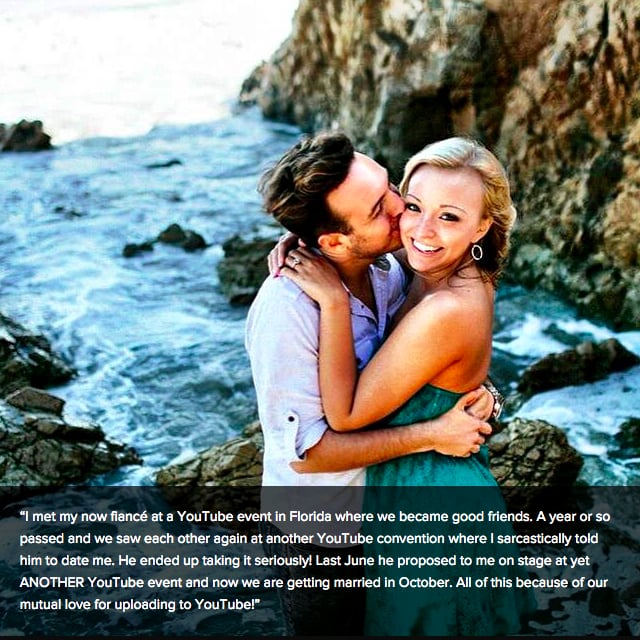 When YouTube became UsTube.