The Simple Thing I Started Doing That Made My Marriage Infinitely Better
I'll admit I'm a pretty difficult person to be in a relationship (let alone live) with. I can be messy, disorganized, and cluttered. When my husband and I first started dating, I would frequently forget plans, misremember doctor appointments, and not keep track of meetings. But a few years ago, I decided it was finally time to get my personal and professional life in order and diligently keep track of my schedule and appointments.
Although I bought a few cute paper planners, none of them really stuck; it's hard to keep up with a physical planner, especially as plans and appointments shift around. Sure, I could use the calendar app on my iPhone, but that didn't always transfer the appointments I had on my Gmail calendar.
Enter the Google Calendar app. I started using shared Google Calendar events when we were engaged to keep track of all of our appointments: food tastings, vendor meetings, engagement photo sessions, and when invoices were due. It worked so well for us, I continue to use it throughout our marriage.
Not only does this help keep my life in order, but it totally transformed my marriage. With the Google Calendar app, I can make appointments and share them with my husband. Now, there's no more confusion over what time our dinner reservations are, when our flight leaves, and which days our bills come out of our joint account. The best part is it syncs with my personal Gmail, so any event I put on my Gmail calendar on my desktop transfers to my phone app. It also picks up other relevant emails and plugs them into the calendar, such as flight reservations and plans made via email.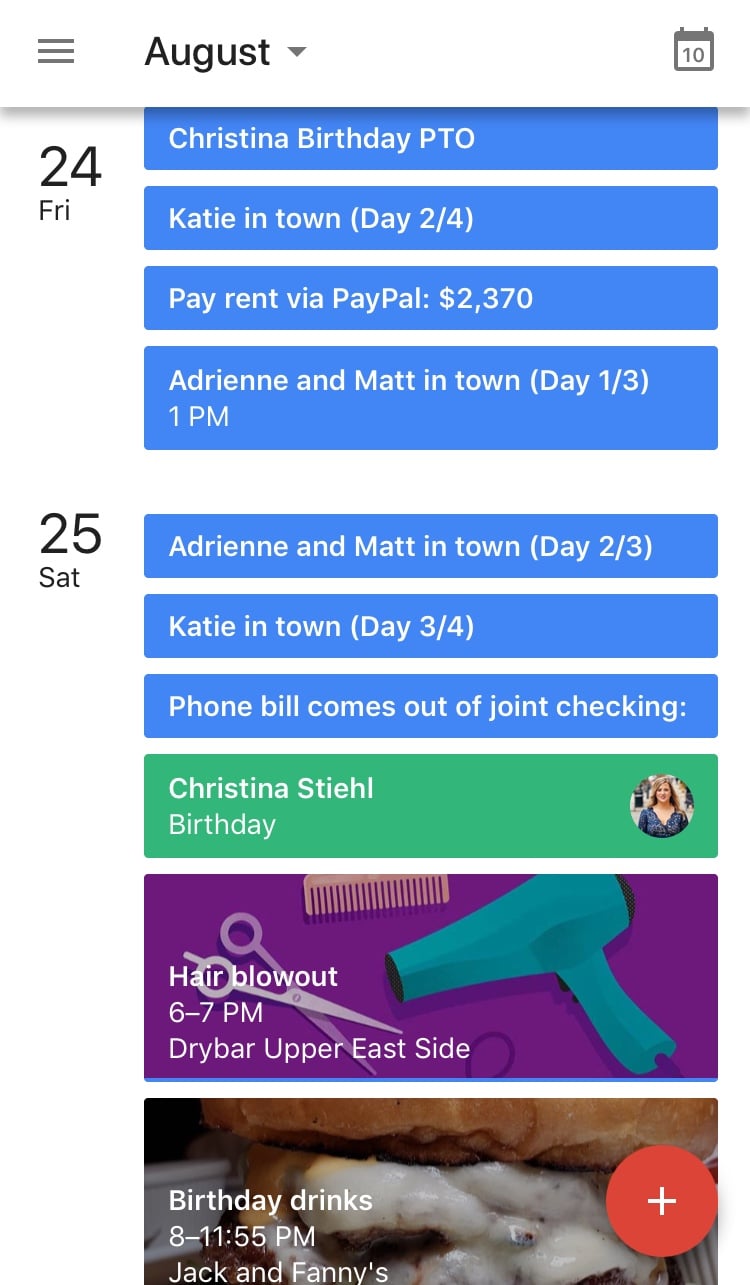 On our Google Calendar, I keep track of everything that affects our lives, including bills, when we are having visitors, flights, doctor appointments, after-work events, weddings, dinner plans, and happy hours. Instead of keeping these appointments to myself, I always invite my husband so he can also know our plans and be up-to-date on evenings when I'll be home late from work.
In the nearly two years we've been using shared Google Calendar events, we no longer get into arguments over what our weekend plans are or what time we need to be somewhere. Sure, I still leave my suitcase in the living room for a few days after a vacation and forget to dust, but at least we have our schedule in order.