10 Hilarious Modern Family Valentine Moments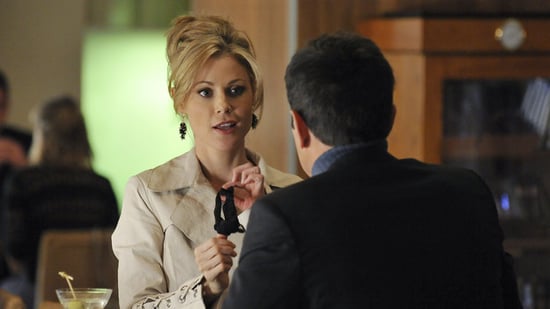 They call it funky love. Last night's "My Funky Valentine" episode of Modern Family sure beat a box of chocolates and a vase of roses. It was full of familial situations that would make any mom laugh to the point of tears. Here are the highlights:
Cam dresses Lily up as cupid and Mitchell dismisses her costume as a cut-up boa. Cam replies, "We re-purposed it. It was a Bob Mackie meets Martha Stewart project."
Dylan hands Claire a rose and says, "All women should look as tasty as you when they are old."
Phil and Claire realize that Dylan's gift to Haley isn't a painting, but a scanned photo of him shirtless lying with her turned into one.
Claire suggests that she and Phil spice up their date with some role playing and he tries out a few characters — Reginald Applebee, an English gentleman in town for a polo match, an honorable businessman from Hong Kong and a tiger trainer.
Phil arrives at the hotel bar with a nametag that says "Clive Bixby."
To see the rest of our picks,
.
When Manny walks into Mitch and Cam's house and announces, "The universe is cold and loveless" as he pours himself a San Pellegrino straight.
Cam says to Manny, "It's Valentine's Day. It's not the day you run away from love. It's the day you track it down, tie it up, and take it home." before they head out to woo Manny's love Fiona.
Noting that he hasn't eaten any, Cam offers Mitchell a chocolate. Mitchell says, "There were two levels — you know it and I know it."
Gloria asks Jay if he would leave her if she gained 100 pounds. He pauses. Then replies, "That's not fair. I have to get old. You don't have to get fat."
When Phil is awed by Gloria's ability to swap coats with Claire without anyone noticing she's naked. Jays warns, "Take it down a notch Clive."
Claire is driving around with the kids when Phil calls to apologize for the previous night's oil mess not knowing he's on speaker. Luke asks why they had oil and Phil says, "We were making french fries."
Photos copyright 2010 ABC Inc.