3 Tips for a Great First Movie Theater Experience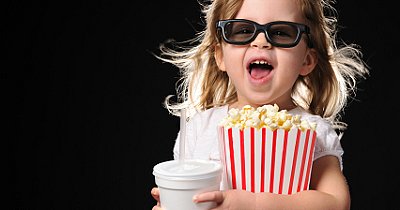 So your toddler adores Lightning McQueen, but you're not sure whether he's ready for a full-length movie theater experience. If you're wondering whether your child is old enough to bring to the movie theater, we're sharing advice from fellow moms on when to introduce your kid to the theater—along with tips on making the experience smooth for your fellow audience members.

When is it Okay to Take Your Child to the Movies?
Aside from a few moms who admit that they brought their quietly breastfeeding babies into a movie theater, the consensus among Circle of Moms members seems to be that you should wait until your child is between the ages of 2 and 4 to introduce her to the big screen experience.
Within that range, however, moms advise that readiness depends entirely on the individual child.  As Laura M. shares: "I think it really depends on your child. My middle daughter behaved well at children's movies when she was 3, but my youngest (who is now 3 1/2) is too active to sit still or be quiet during a movie. She may never be able to sit still for an entire movie...LOL!"
Savannah M. agrees: "I fully believe it's different for every child. My son is 2 1/2 and will sit through movies at home and his favorite TV shows because he has the attention span [for it]…If you feel your child is ready and can sit through it then go for it. If you know he/she can't make through a 30 minute TV show...then you know he/she isn't ready."
In addition to a child's ability to happily sit still for nearly two hours, the theater's noise level is also a consideration. As Emma C. relays: "I took my son to see his first cinema movie when he was 3. He did enjoy it, but I think it was a little loud when the action parts came on, so...if I could do it over again, probably closer to 4 would be a good age."

Tips for a Good Movie Theater Experience — for All
In addition to avoiding bringing an antsy toddler to a Friday night showtime, Circle of Moms members offer several tips for enjoying a movie with a young child in tow.
1. Sit Where You Can Exit Easily
First, choose a seat with an easy exit route, in case your child becomes disruptive and you need to bolt, or if they suddenly need to use the restroom. As Ahmie Y. advises: "Just always be ready to take them out into the lobby if they start getting noisy and try to sit toward the back so you don't disturb other patrons with your exit."
2. Explain That Movies Are a "Quiet Zone"
Emphasizing that a movie theater is a quiet zone, is also important. Tina P. encourages: "It's good to teach your child how to be quiet in the movie, even though others aren't."
3. Choose Matinees and Child-Friendly Showtimes
 It may seem like common sense, but you may also want to steer clear of Friday and Saturday night showtimes. As Denise B. implores: "Consider your audience! Seriously, parents...in your heyday did you want to see an infant or toddler at your date night? If you are seeing an adult movie splurge and pay for a babysitter...Nothing p'ed me off more than the 2-year-old running around in the front row with her light-up sneakers at the last date night movie I had!"
Instead, opt for matinee showtimes or special kid-friendly programs. "We have a theater by us that does 'dinner and a movie,'" Tasha W. shares. "It's very kid-friendly and my daughter (who is now 2 years, 7 months) does really good. I would recommend a place like that if you could find one." Similarly, Melissa B. recommends discounted summer movies for kids: "They are usually re-runs...but at my theater are only $1. These are great, because if your child doesn't make it through the movie, you can leave without feeling like you left half your wallet behind!"
Looking for more opinions and tips on taking a child to the movies? Check out conversations on the topic in Circle of Moms' Debating Mums, Young Moms Aged 20-30, and Parenting Debates & Hot Topics communities.