5 Great Potty Training Books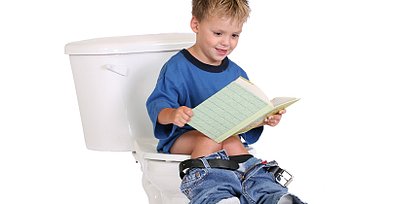 Kid-friendly books about potty training are an excellent way to both help explain potty training mechanics and generate interest and excitement about using the toilet. Here are 5 mom-recommended titles to read with your child.
1. Once Upon a Potty, by Alona Frankel
If there's such a thing as a "potty training classic," then this is it. Written in 1975, Frankel's simple potty training story has helped generations of boys and girls learn about using the toilet, although some moms are put off by the book's terminology (e.g., pee-pee for penis). Different editions are available for girls and boys; together, they've sold over four million copies worldwide.
2. My Big Boy Potty and My Big Girl Potty, by Joanna Cole
With watercolor illustrations and useful tips for parents, this tale of potty training success is Ashley H.'s favorite potty training book. There are different versions for girls and boys, but they vary only in the gender references. 
3. Everyone Poops, by Taro Gomi
Originally published in Japan, this translated story is a great way to reassure children that defecating is a perfectly natural body function. The story also injects some lighthearted humor into the potty training process, and even parents can get a chuckle from lines like: "A one hump camel makes a one hump poop. And a two hump camel makes a two hump poop. Just kidding."
4. Going to the Potty, by Fred Rogers
"Fred Rogers has a book that's very good at explaining the process on a child's level," Joy M. shares in the Potty Training Toddlers Community. With photos of real children and straightforward text, this guide from "Mr. Rogers" is less cutesy and more practical than many other potty training books on the market.
5. You Can Go to the Potty, by William Sears, Martha Sears and Christie Watts Kelly
This potty training book covers the basics of toilet training for kids with full-color illustrations, and includes extra tips for parents in sidebars. "He LOVED Dr. Sears' kids book You Can Go to the Potty," shares Alison C. of her son. "Other [books] were fun for him to read, but that's [the one that] actually helped him learn."
Did a specific book help your child in the potty training process?