Advice For Pregnant Bridesmaids
Here Come the Bridesmaid Requests! 5 Tips If You're Pregnant or a New Mom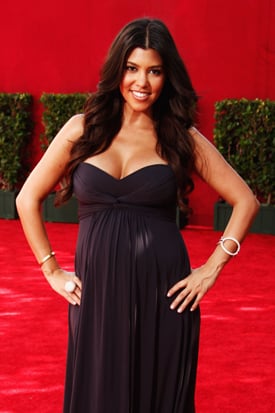 The holidays are here, bringing not only lots of gifts, cookies, and good cheer, but also a ton of engagements! While hearing that one of your besties is sporting a new rock is always exciting, being a bridesmaid and being pregnant or a new mom can be really challenging — just ask Kourtney Kardashian, who rocked a skin-tight lilac bridesmaid dress in Khloe's wedding when she was seven months pregnant! Here are a few tips for surviving with your friendship and sanity intact.
Be realistic. Many a bridesmaid has agreed to stand up in a friend's wedding only to regret it when she's tottering around in the required three-inch heels and unflattering silk dupioni dress when she's super pregnant or still hanging on to 15 pounds of baby weight. While you don't want to disappoint your friend, really think about whether you'll be able to live up to her expectations if you are nearing your due date or will be dealing with a newborn. It's better to bow out gracefully than to feel miserable or torn in two directions (i.e. hair and makeup or a breastfeeding session) on her big day.
Speak up about the dress early. Ask your friend if you can try on bridesmaid dresses with her; otherwise, you can't complain when she picks out a bright orange pencil dress for you to wear six weeks postpartum. Women who haven't gone through a pregnancy often don't realize how uncomfortable pregnant women and new moms can be within their own bodies. If you go to the appointment, you can make your opinion on the dress known. If she doesn't take them into consideration, refer to tip number one. For three more tips, keep reading.
Enlist help. If you decide to go for it and be her lady in waiting, make sure you have backup. If you're pregnant, ask your husband or a nonbridesmaid friend to discreetly check on you, bring you water and snacks, and deliver a pair of comfortable shoes to the reception. If you have a newborn, make sure you have childcare. If you're breastfeeding and have to nurse during the day, let the bride know that you'll be absent for a bit or ask if your baby can make an appearance at her reception. If she has a preference, follow it.
Communicate. While no bridesmaid wants to add to a bride's stress, if you're struggling to make her wedding day schedule work for you due to pregnancy complications or the demands of a new baby, definitely let her know — as early as possible. Conflict most often arises when a bride feels like her bridesmaid was unnecessarily distracted or absent from events. Warn her in advance about what you can and can't do, and you'll likely avoid an awkward situation.
Show some love. It's inevitable that your pregnancy or new lil one will make your friend's big day a different experience than other weddings you've participated in. Show her some extra love by writing her a sweet letter, giving her a thoughtful gift, or hosting a prewedding shower. If you opt out of being a bridesmaid, all three options are less time-consuming and stressful than actually standing up in her wedding. If you opt in, they can make up for your divided attentions on her wedding day, letting her know how much you care.