Airplane Travel with Kids
Mommy Dearest: Family Assigned Separate Seats on Flight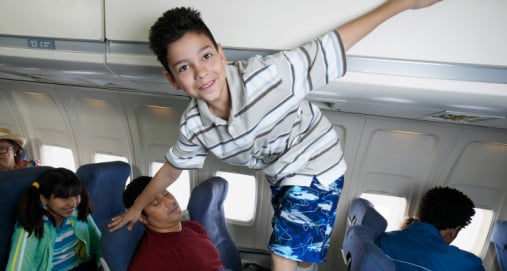 Mommy Dearest,
We recently returned from a short vacation and traveling home was a nightmare. Our flight was canceled and my husband, son and I were put on a different flight — all three seats were in separate rows. The customer service agent told us the flight attendants would move people so at least one parent could sit with the child. But, once we boarded that didn't happen. One attendant told us to just ask passengers to swap seats. Thinking people wouldn't want to sit next to a four-year-old boy we inquired, but no one budged. The people sitting next to my son said we should have never boarded knowing we were separated. Luckily, another attendant persuaded a man to move after I told her the alternative was to have my son sit on my lap. What would you have done?
– Recovering From Flight
To see the response from Mommy Dearest,
.
Recovering From Flight,
I am glad that everything ended up working out for your family. I would have assumed that a sympathetic traveler would have aided you in your situation sooner. Perhaps, you'll consider writing a letter to the airline so this doesn't happen to others in the future.
—Mommy Dearest
Submit a question for this feature at the Mommy Dearest Group on TeamSugar.