American Girl to Introduce Doll Without Hair
Here's a post from our partners at BabyCenter! Every week, we bring you the best parenting and lifestyle stories from the experts at BabyCenter, including this post from Amy Hatch about American Girl's newest doll.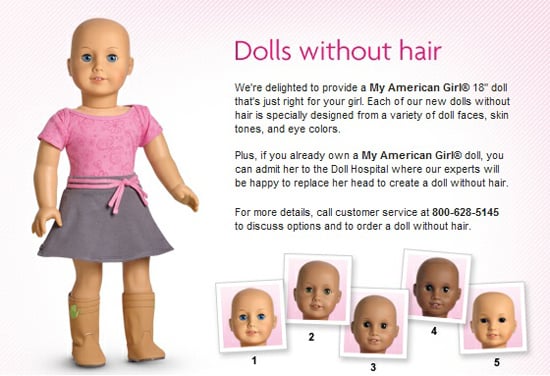 When I saw in my Facebook feed last week that American Girl is offering an option for girls to choose a doll without hair, I was overjoyed — and it took me right back to 10 years ago, when I lost all of my hair to an autoimmune disease called alopecia areata.
Basically, your body sees your hair as a foreign invader and kills it off at the follicle. Most people lose only a small patch of hair (which was how my case presented at first, a dime-sized bald spot behind my ear) but in severe cases those afflicted can lose all (universalis) or most (totalis) of their head and body hair. I lost 90 percent of the hair on my head and I was bald for nearly two years.
Related: Tori Spelling on the joy of a delivery room surprise
I was lucky that all my hair grew back, thanks to what doctors believed was a kickstart of hormones from my first pregnancy. But when my first child was about three years old, I started to lose my hair again. Expecting to go bald again (spoiler: I didn't), I sat down to explain it to my daughter so she wouldn't be scared as my appearance started to change. Having a doll to use as an example would have made that hard conversation a lot easier.
I love that Mattel opened the door for dolls like this with their bald Barbie (which isn't available for sale), but there's something about a hairless bombshell that reminds me less of someone suffering from a disease or dealing with chemotherapy and more of Demi Moore in G.I. Jane. Don't get me wrong — I don't have anything against Barbies in general, but American Girl is a brand with a little more gravitas. Cancer treatments and conditions like alopecia are hard enough, but the changes that happen to your appearance can be just as devastating and this doll will help a lot of kids get through that with a little less pain.
Hats (hairs?) off to American Girl for making this terrific toy available for everyone!
More great reads from BabyCenter:
Do you care what your kids wear?
Infertile women are twice as likely to succumb to alcoholism
7 ways to pamper yourself during pregnancy
Guess which celeb had an outdoor water birth?
9 creative sidewalk chalk photos