Amy Chua's Husband Agrees With Her Parenting
Tiger Mom's Husband Agrees With 99 Percent of Parenting, Are You Surprised?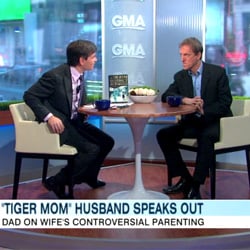 This morning it was the battle hymn of the tiger father on Good Morning America when George Stephanopoulos interviewed Jed Rubenfeld, Amy Chua's husband, a Yale law professor, and best-selling author. He said while dealing with the book's publicity has been difficult, the fact that it sparked an international conversation is "tremendous." In regards to Chua's parenting techniques, Rubenfeld said, "99% of the time absolutely I agreed with it, because as I was saying for me these were traditional American values, not Asian. So yes, I was on board with it," And, he applauds his wife for her honesty. "I wasn't totally crazy about being a character in somebody else's book and so I said I'd rather be kept in the background. And, that's what she did." What do you think of his sentiments?